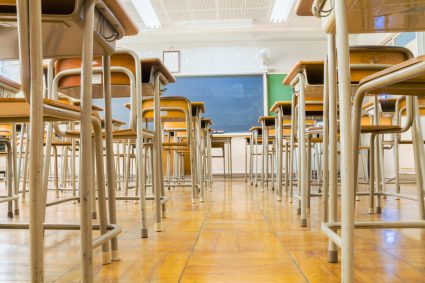 CREDIT: This story was first seen in The Oxford Times
Schools with the highest absence rates in the county have already begun tackling the problem, but headteachers say more needs to be done, The Oxford Times reports.
In January, the Oxford Mail reported that a top education boss with the power to intervene in underperforming schools could be asked to step in to tackle the problem.
But the most up to date figures revealed that although the absence rate across the county had not changed, some of the schools with the highest figures had made improvements.
Highest five (percentage of pupils missing at least 10% of classes)
Banbury Academy 24.6%
The Oxford Academy 22.4%
St Gregory the Great 22.2%
Wheatley Park School 19.5%
UTC Oxfordshire 18.9%
Lowest five
Europa School 5.6 per cent
Heyford Park Free School 8.1%
Oxford Spires Academy 8.5%
Langtree School 8.7%
Faringdon Community College 9.9%
The Oxford Academy's persistent absence rate – the percentage of pupils missing at least 10% of classes – dropped from 23% in the first two terms of the academic year to 22.4% by the time the last term's figures were included.
Banbury Academy's rate remained the highest in Oxfordshire but fell from 26% to 24.6% while Cheney School's rate fell from 18% to 17%.
The Oxford Academy headteacher Niall McWilliams said: "We still need to do better – we are working really hard with parents and students.
"It is getting ever so slightly better but it is not as quick as we would like. We are keeping up our same relentless focus every day."
If pupils are absent without a reason, staff from the school visit their homes to find out what the issue is and try to resolve it.
During the last academic year 4,360 pupils –13.9% –were persistently absent.
This is slightly above the 13.1% national average.
The 2015/16 academic year had new criteria for persistent absence, after the government raised the threshold from 15% of lessons missed to 10%.
Oxford Spires Academy headteacher Sue Croft said this had required some adjustment from schools.
The academy had one of the lowest persistent absence rates in Oxfordshire at 8.5%. Ms Croft said: "We tweaked our procedures a little bit.
"Beforehand we would send out letters of concern at a later stage, but now we send them out at an earlier stage of low attendance. That is part of our whole approach to making sure we are looking after people.
"Nobody wants to have a poor attendance record, they want to do well in school. It is about knowing what the problem is, or finding out what it is. We also need to make sure we have a school where people want to turn up."
Don't forget to follow us on Twitter, like us on Facebook, or connect with us on LinkedIn!