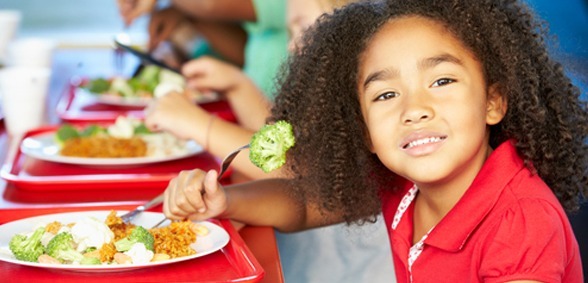 Over the summer came a new push to tackle childhood obesity. Public health bosses urged the food manufacturers of the highest calorie offenders to make their food – chips, pizza, burgers, crisps, etc. – healthier. In schools, having a strong catering service can go a long way towards healthier eating so Marie Cahalane spoke to some culinary whizzes for advice
According to NHS Digital's Statistics on Obesity, Physical Activity and Diet, published in March this year, in 2015/16 more than one in five children at reception level, and over one in three children in year 6, were found to be obese or overweight. In August the government announced that it wants to tackle the growing childhood obesity epidemic by introducing drastic measures and it established targets to reduce the calories in foods such as burgers and pizzas, as well as other notably unhealthy meals.
Schools are tasked with providing students with meals on a day-to-day basis and, as such, are responsible for providing nutritious food. Selecting the right caterers to staff canteens is crucial to ensuring the required quality of food and service is achieved – in a cost-effective way. Tony Vale, regional manager at catering company Dolce, points out that, "Caterers must adhere to strict government guidelines when it comes to school meals, so offering nutritionally compliant dishes is a must."
So, what questions should schools be asking to ensure meal quality – while remaining cost-efficient? How can SBMs secure value for money? And what are the benefits of opting for an external provider?
Taste the goodness
"All schools are under government guidance to follow robust nutritional guidelines as part of the School Food Plan introduced in 2014," Paul Rogers, managing director of Alliance in Partnership (AiP) explains. He adds that most school caterers now work within the Food for Life (FFL) framework – which ensures that more than 75% of the menu is freshly cooked – and is awarded at three different levels (gold, silver and bronze).

 Paul's tips for going for gold
AiP is a gold FFL provision which means that 15% of our menu must be organic, our meat is Red Tractor certified, we hold meat free days and serve MSC certified fish and local seasonal vegetables. The quality of the meals we serve is the highest.
The 'proof of the pudding is in the eating' and the quality of meals can be measured by the uptake. Today's students are knowledgeable about food. If standards drop they will vote with their feet and, as a result, school meal sales will drop.
Whether your catering service is provided in-house, or via an external provider, there are some simple ways of ensuring that you're providing the best for students. The Department for Children, Schools and Families offers some easy to follow advice. For example, where possible, align your menu with seasonal production, collaborate with suppliers and other schools to aggregate your purchasing power and secure sustainable options – and drink tap water!

Tony's quality tips
Schools should constantly review how meals are cooked and assess who's cooking them. Are they prepared from scratch?
Question whether your catering provision is offering enough variety to pupils in terms of the meals available each lunchtime. A school meals programme that provides both high quality ingredients and a good variety will make meal options highly attractive for parents, therefore leading to increased take-up.
Value for money
When it comes to ensuring value for money one area that schools can really make the most of is competitive tendering. "By obtaining quotes from a number of different catering suppliers schools are able to assess and compare the food quality and associated costs, enabling them to identify the most cost-effective option which, in turn, allows them to pass these cost savings onto parents," Tony advises.
Value for money extends to more areas than cost alone. Paul suggests that schools consider the added benefits that a particular contract might hold – for example, tasting days (always a welcome treat!) He also points to the importance of having clear KPIs in place from the outset and having an open book policy with your catering company.
Currently there's a move towards schools taking part in collaborative procurement – as clusters of schools and as MATs – and this is definitely something that should be considered to ensure quality of produce and value for money. "Collaborative procurement offers several benefits," Paul says. These include:
Lower costs in respect of management fee
Higher turnover which will produce savings when purchasing
More opportunity for investment from the caterer
A single caterer will provide the same quality across all schools/academies involved
One price for the meals across all schools/academies involved.
Engaging an external catering company
Collaborating with schools is one thing, but it's also important to understand what collaborating with suppliers can do. A contract caterer – working across a number of schools and/or organisations – will have impressive purchasing power. "Contract caterers have greater buying power and offer far better procurement benefits than a caterer employed by the school directly," Paul explains.
A dedicated school catering provider can remove certain pressures from school business managers who have enough on their plates and goes a long way towards guaranteeing nutritional, high-quality meals for students – at a reduced price. "By appointing catering experts to handle the day-to-day catering, including health and safety, you can still be involved in the school's food offering without the day-to-day hassle," Paul says.

Opportunity for the business-minded
Due to the savings that can be realised by working with an external provider, and the opportunity for choice and quality of produce they provide, Paul notes that there is greater opportunity for schools to optimise revenue and control costs. Further, returning to contractual benefits, Paul points out that there can be capital investment opportunities available to a school as part of the contract.
Catering services often provide useful features and services for school management and also for parents, too. Tony uses Dolce's pre-order functionality which means that schools can choose from more than 1,000 recipes and select the right fit for school and students. "This allows for stringent allergy protection, which is vital for parents with children who have specific dietary requirements or restrictions," he says.
Beating obesity
While it remains to be seen whether the government's plan to make unhealthy foods healthier by reducing the number of calories will be successful, or not, there are ways that schools can play a key role in beating the bulge. Physical activity is an obvious one, providing healthy meals using quality produce and full of nourishment is another.
But perhaps, with an efficient catering service in place, school staff and students will have more time to focus on the grass roots movement, to re-engage with what Paul terms, 'food culture' – a really healthy food culture. Rather than consuming for the sake of consuming, Paul suggests getting involved in food-related activities with students or offering additional resources – such as kitchen gardens in schools.
Perhaps it's time to change our relationship with food and, when it comes to change, education is always at the forefront.
Don't forget to follow us on Twitter, like us on Facebook, or connect with us on LinkedIn!