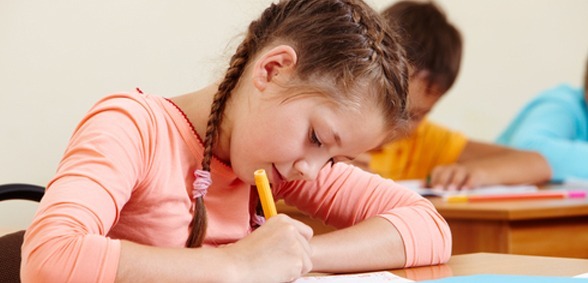 CREDIT: This story was first seen on Sky News
Theresa May is being pressed into another U-turn over a controversial new schools funding formula, Sky News reports.
Senior Conservative sources told Sky News the proposed changes to how schools are funded would have to be dropped or changed, amid warnings from Conservative MPs that they will rebel on the issue if pressed to a vote.
Around 20 Tory MPs confronted Education Secretary Justine Greening at a private meeting of the 1922 committee on Wednesday night, expressing concerns that underfunded schools were still suffering under her proposed reforms.
At least one in five Conservative MPs are thought to be adversely affected by the proposed changes to funding formulas, with schools in London, Cheshire, Nottingham and Birmingham some of the worst hit.
One senior Conservative told
Sky News
the policy was not politically deliverable given the level of disquiet on the backbenches.
"They're going to have to pull it, delay it or find more cash," the senior MP said.
"Tory MPs as well as Labour MPs are losing substantial sums of money. It's one thing to cut across the piece because of austerity but to cut one person's budget to give to someone else, well it's fair to say that's going to blow up."
Ministers had been holding one-on-one meetings with those MPs most adversely affected and are in "listening mode".
One backbencher Antoinette Sandbach told
Sky News
the government needed a rethink.
She said: "It doesn't seem to have addressed the fundamental inequalities that there were in the previous formula, so I would say this fails in its job and it has to be looked at again."
Dropping the proposed funding formula plans would be the latest in a string of U-turns by the government in the face of backbench pressure.
The chancellor said he was scrapping rises in national insurance contributions just a week after announcing the £1.8bn revenue raising policy in his Spring Budget.
Philip Hammond had called round MPs over the weekend to gauge the level of resistance before quickly dropping it this week.
The government has also moved on business rates, social care funding, and sex and relationship education in schools in the past three weeks alone on the back of MP pressure.
Audlem St James's CoE primary school in Ms Sandbach's Cheshire constituency is facing swingeing budget cuts: headteacher Rebecca Jewitt said her school with lose £75,000 – equivalent to £483 per child – by 2019.
Ms Jewitt said she'd have no option but to lose two teachers and merge children in different year groups in the same classes if the cuts go ahead.
Meanwhile in London, Redriff primary school will lose £150,000 a year – the cost of hiring three teachers or six teaching assistants. Headteacher Mickey Kelly said he'll have no option but to lose staff. "I can't make those savings by turning off the lights," he said.
MPs have warned the Prime Minister that failure to support them on basic school funding on their patches would make it very difficult for them to push through other elements of her schools' policy – such as her flagship £320m grammar school project, unveiled at the Budget.
MPs told
Sky News
that they were hopeful ministers would now move on funding formulas.
"Education ministers are working really hard to communicate and consult with MPs. We are being listened to," said one backbencher.
The Department of Education told
Sky News
: "We're consulting on the factors that will make up the formula and we know that it's important that we get this right […] We are keen to hear from as many schools, governors, local authorities and parents as possible."
Don't forget to follow us on
Twitter, like us on
Facebook, or connect with us on
LinkedIn!