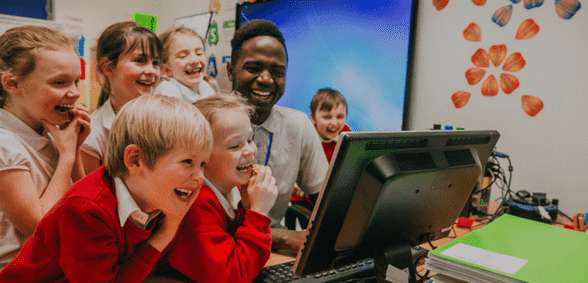 CREDIT: This story was first seen in Tes
Spending by schools on ICT is set to rise for the first time in three years, according to research shared with Tes.
The findings, based on a survey by the British Educational Suppliers Association (BESA), comes at a time when many school budgets are being severely stretched due to real-terms funding cuts.
BESA's figures show schools are expecting to spend nearly three per cent more on ICT in 2018-19 than they have budgeted for in 2017-18.
Primary school spending on ICT is due to contract for the second year running in 2017-18, to £289m, before rising to £295.8m the following year.
This is still lower than the amounts spent in 2016-17 and 2015-16.
A similar pattern can be seen in the secondary sector, which is expecting to spend  £273.1m on ICT in 2018-19, up from £263.8m in 2017-18.
The survey used a sample of 557 primaries and 366 secondaries, selected as an accurate representation of all schools across the country.
The research also shows that the proportion of schools saying they are well-equipped with ICT infrastructure and devices has dropped to its lowest point in six years.
A third of secondaries say they are well-equipped – down from 37% last year and 64% the year before that.
Primaries are more likely to see themselves as well-equipped – 60% say this is currently the case, though this is down from a peak of 67% in 2016.
Asked whether they were well-equipped with teaching and learning resources overall, 56% of primary schools and 32 per cent of secondary schools agreed or strongly agreed.
For secondaries, this continues a downward trend since 2015:
Caroline Wright, director general of BESA, said: "Seeing schools ready to increase their spending on ICT in 2018-19 is an encouraging sign that schools are increasingly recognising the positive impact educational technology has, when applied well, on pupil performance.
"Disappointingly, two-thirds of secondary schools still state not being sufficiently equipped with ICT infrastructure and devices. There is, therefore, more to do to provide pupils with access to the necessary resources, ed-tech tools and skills to enable them to compete in a global skills market.
"These findings show that schools are making a step in the right direction, but it is the first step in the longer marathon of ensuring schools are well resourced in their curriculum and resources budget across the wider system."
Don't forget to follow us on Twitter, like us on Facebook, or connect with us on LinkedIn!