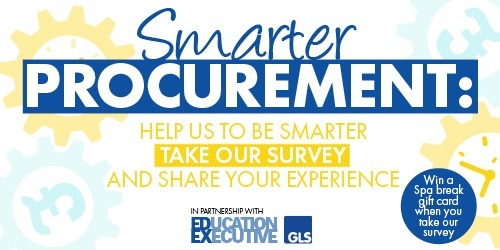 Our smarter procurement survey seeks to examine the areas that SBMs find most challenging in order to identify how the procurement function can be streamlined to improve efficiency, reduce costs and give you back some time
In conjunction with our partner, GLS Educational Supplies, we're undertaking research and we need your insights! Please spare just a few short minutes to
TAKE OUR SURVEY
The job of procurement most often falls to SBMs – one additional task to manage. However, it can be a complicated and time-consuming process. SBMs often lack appropriate support to enable them to balance budgets as well as cost with quality to achieve value for money.
Smarter procurement ensures financial savings that can be re-invested in your school; it ensures goods and services are fit-for-purpose, that suppliers deliver as agreed and financial obligations are complied with and ensures that you save time and effort along the way.
How do you procure to make efficiency savings – in terms of time and money – while continuing to deliver and improve standards for pupils? And what do you need to enable you to procure smarter?
In partnership with GLS, we want to identify the pinch points SBMs face on a daily basis, and to define smarter procurement to make it practical and practicable. To this end, we're undertaking research to examine the areas that SBMs find most challenging in order to identify how the procurement function can be streamlined to improve efficiency, reduce costs and give you back some time; the findings will be published in a white paper and shared with the sector.
We're gathering the insights and experiences of those on the frontline who undertake, and engage with, the procurement process on a daily basis, so please make sure that you take our smarter procurement survey and look out for the research when published.
Take the smarter procurement survey
here
.
For a long time, GLS has understood the pressures faced by school business managers nationwide. Recently, we've been asking ourselves, how can we get involved and truly add value to the SBM community? This white paper is our opportunity to offer honest, tangible advice to help you to increase time and money saving opportunities within your school. It's also a chance for us to share the views of the wider, collaborative SBM network within a single, easy-to-digest document that will remain useful for years to come.
Don't forget to follow us on Twitter, like us on Facebook, or connect with us on LinkedIn!