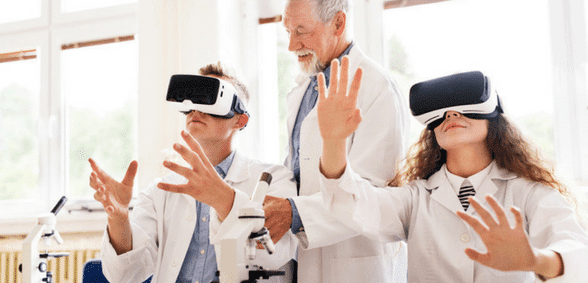 As we put Bett to bed for another year, we thought it apt that we look back, chat to some tech gurus and consider some of the edtech trends that we see emerging
Edtech; it's ever evolving, ever changing and sometimes you have to wonder if it's worth the effort – or the funds. One thing that we here at EdExec have noticed in recent  conversations with edtech providers, BESA and academics, is that there has been a revolution of sorts; where once technology was being adapted to meet the needs of the education sector, it is now being created to meet the needs of educators and students – a key difference. In 2018, budgets will remain stretched and technology can help you get more for less, whether that's money, time or utility. But spending must be efficient; this requires assessing current tech (and return on investment) and ensuring that any future investments are fully fit-for-purpose.
"There will be a bigger focus on, 'What are we getting from this product?' It's not good enough to buy a new tech solution each year if they're not being properly implemented. Schools should know what the measurable outcomes are and be asking suppliers the tough questions like, 'Would our teachers/children be any worse off if we didn't have this product?'" Kate Heal, head of operations at Frog, advises.
Learning management systems; supporting teaching and learning
There is a strain on resources and schools, and technology-led learning support is one solution. This is not new, but it is something that is gaining momentum. It's all about making learning more accessible to all students and technology is being used to break down many barriers, such as mental health or learning disability. "The role of edtech isconsiderable, and is growing, because it changes the definition of what it means for a classroom to be flexible, adapting to the needs of the individual," Sam Warnes, founder and creator of EDLounge, explains. The key word here is flexibility. Technology is allowing education system to change and reflect how we work and engage in our daily lives. For one thing, it is moving away from traditional tools – such as pen and paper – and opening up access to the most extensive encyclopaedia/source of knowledge we've ever had – the internet.
"Education is still only two per cent digitised, despite decades of widespread internet access and the digitisation of most parts of our daily lives," John Nichols, co-founder and head of education at Get My Grades, points out – and still students hand in written assignments. In 2018 John predicts a continued shift towards online learning management systems which enable students to learn content and complete their assignments online. Further, these tools – which can aid marking and assessment – can also reduce  cognitive load and support teachers, as Murray Morrison, founder of Tassomai, highlights. As we hear more in the media about teacher workload and burnout, time-saving tools such as these might be life lines – improving teacher wellbeing and retention – plus, they bring the added benefit of powerful analytics!
The internet of thing (IOT); connecting classrooms and learning
This ties in with cloud-technology and cloud-only schools. As the technology becomes pervasive, and information and resources can be storedremotely and accessed any time, in any place, it only makes sense that schools adopt a more connected and collaborative approach to how the tech is used. "The age of isolated single-user applications is over," Philipp Wissgott, edtech specialist and co-founder of Waltzing, reckons. He says that the future of edtech lies in interaction and collaboration. "We think collaborative learning will be a key trend in 2018 because it has never been easier for teachers and students to share their skills and output with each other," says Greg Mack, sales manager Vivitek UK, as he observes a growing demand for tech solutions that aid collaboration. What does this look like in the classroom? One example might be interactive classroom displays which can connect to a student's tablet and facilitate increased teachermaterial-student engagement.
Cloud technology; moving from hardware to connected software
This is an area that we have covered extensively in ICT Matters but we've tended to compartmentalise it – looking individually at cloud-telephony, cloud-hosted firewalls, cloudhosted systems, etc. This is a trend that Sanjesh Sharma, director of Spongy Elephant, expects will continue, but says that we are now moving towards integrated, cloud-only schools. How's your school's tech-infrastructure looking? If you are planning any upgrades or changes perhaps it's best to look at what will facilitate a full overhaul
in the future – ensuring compatibility may save you money in the long-term.
Gamification; changing the way we teach to match the way we learn
"Gamification of learning has been shown to have a massive impact of learner outcomes," says Glen Jones, marketing director of Emile Education. She says that we can expect to see games being more closely integrated with learning in 2018. The idea is to motivate students to learn by using video game design and game elements in learning environments. It increases enjoyment and engagement by tapping into a platform that they are interested in.
Artificial intelliegence (AI); personalised learning
AI has been on the agenda for some time but, again, it is being refined to meet the very specific needs of learning and learners. AI has the ability to support personalised  learning and improve student outcomes by tapping into their specific needs. "Innovative edtech companies are using AI algorithms to ensure each student's needs are met in a way that has not been possible before," Nadya Thorman, COO of Century Tech, explains. "The potential of such technology is enormous; imagine software that knows students' learning needs, preferences and behaviours equally as well, if not better than, the best teaching assistants."
Virtual/augmented reality; immersive learning
Studies have proved that people remember 10% of what they read, 20% of what they hear and 90% of what they experience – demonstrating the importance of the immersive experience. So, while budgets may restrict school trips perhaps virtual, or augmented, reality technology can step in and support learning. "Augmented and virtual reality are being adopted more in the classroom to bring learning to life," Graham Cooper, head of education Capita SIMS, says. "Classrooms are about to move to the next level; imagine every school being able to take students on a virtual tour of the pyramids or to step inside the human body to see how the heart works in a biology lesson – that's where I
hope we're heading!" Technology is taking schools in interesting directions! What the future holds for learning and teaching is yet unclear but, based on what we've seen, we're sure it will be exciting! If your school has adopted new technology, undertaken a tech-upgrade or is planning to transform its digital offering, we'd love to hear from you! Please contact [email protected].uk
This article featured in the February issue of Education Executive. Read the magazine here. Subscribe if you like what you see!
Don't forget to follow us on Twitter, like us on Facebook, or connect with us on LinkedIn!