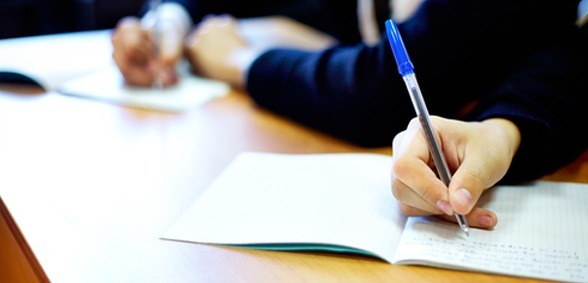 CREDIT: This story was first seen in TheCourier.co.uk
Bev Leslie, headteacher of Blairgowrie High School, wrote to parents last week asking for those with a "maths or related degree" to help out, TheCourier.co.uk reports.
In an update sent to parents, she said teachers from other Perth and Kinross schools will "provide temporary cover here at Blairgowrie High School".
"Priority has been given to all senior classes, who are sitting examinations in May and National 4 classes, in establishing the timetable," she said.
There are two vacancies in Blairgowrie's maths department – with interviews being held next week – and the emergency cover from other schools is expected to last for at least a fortnight.
Mrs Leslie admitted last week that the request for parent help was "highly unusual", but said the school had to be "creative" because of staff departures and recruitment difficulties.
The council spokeswoman said the plea was not about parents teaching in class, but would see them offer extra support outside of school hours.
Mrs Leslie said the aim of the letter was to track down registered maths teachers that are not on the local authority's supply list.
The school is in the backyard of Education Secretary and Deputy First Minister John Swinney.
Speaking to The Courier, the Perthshire North MSP admitted there is "clearly a challenge for teacher recruitment that will create acute pressures in different schools and in different areas of the country".
"A number of schools like Blairgowrie High School are facing these pressures in particular subjects," he added.
"What we have discussed with Perth and Kinross Council and what has already been put in place is to for teacher resources to be allocated across the local authority to enable Blairgowrie High School to effectively support the education of young people despite those pressures."
Mr Swinney added that he was tackling the teacher shortage by significantly increasing student intake to Initial Teacher Education and speeding up the route for professionals into teaching.
A spokeswoman for Perth and Kinross Council said: "We would like to reassure all parents and pupils that we have processes in place to ensure there is appropriate class cover to minimise disruption to learning.
"We are conscious that there will be concerns about what support will be available with the upcoming exams and we will take every measure to provide teaching cover and support so that pupils are not losing out."
Don't forget to follow us on Twitter, like us on Facebook, or connect with us on LinkedIn!