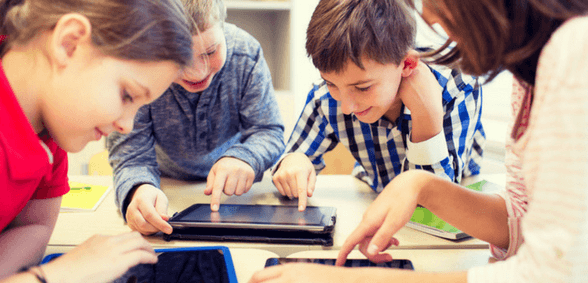 Ah, technology…the cause and the solution to so many of our day-to-day problems! When it works it works very, very well, but when it doesn't there are only so many times that you can try turning it on and off again
The best place to start is making the right IT investment – and this includes having the right infrastructure in place and ensuring that it's suited to the devices that you wish to implement. John Haslam of edtech supplier Stone Group, highlights some of the hardware and software every classroom needs
A squeeze on budgets has meant schools are delivering the curriculum with less. As such, they are having to think creatively about solutions to enhance teaching and learning and explore technology they wouldn't necessarily have considered before. BYOD and one-to-one schemes remain popular and schools must focus their IT spend on tech-infrastructure, rather than just devices should they choose.
Before investing in devices and software, schools are looking at suppliers that deliver the best value for money.You will want to know what technology will work best with your school's existing infrastructure and operating systems, which software the devices are supplied with and/or support, how good the battery life is and the product roadmap, for example.
There are of course some education technology 'must haves'…
Mobile Devices
When it comes to mobile devices for schools, there are three main choices:
Laptops: today, we're seeing the standard classroom laptop being replaced with tablets and Chromebooks – tighter budgets make these an attractive option for schools. However, laptops continue to appeal to academies and multi-academy trusts (MATs) that operate with traditional programs, such as Microsoft Windows/Office 365 environment. And, when it comes to accessing and sharing learning resources, with more port and connectivity options than tablets, laptops tend to come out on top. They are also familiar to most pupils and teachers. Acer, Lenovo and Toshiba all offer good entry-level laptops with great battery life that start around the £250 price mark. We'd recommend the Toshiba R50 series and StoneBook Mini (11.6") as good everyday classroom devices.
Chromebooks or Windows S Devices: Chromebooks use Google's Chrome operating system and work on the principle that everything is stored in the cloud, not on the laptop itself, making them less prone to software errors but are dependent upon the school's internet connection. Chromebooks, like Windows laptops, come in many configurations and at various price points. These are typically lower priced and you should not need to spend more than around £250 to get one that is suitable for students. There are a number of incredible Chromebook models that we would recommend for education, including those from the likes of Acer and Asus. These devices make a great solution for the budget conscious and offer a robust and resilient design that makes it great for BYOD schemes. A number of Microsoft partners are looking to launch a series of Windows S mobile devices to compete in the Chromebook market using the Office 365 environment.
Tablets or 2-in-1 devices: We tend to think of iPads when we think of tablets, and Apple continues to remain popular with teachers and pupils alike with its vast apps library. However, there has been a shift in the market as schools consider alternative and more cost-effective tablet solutions. There are also a number of new low cost / low-end Windows tablets serving this market that offer a 'best of both worlds' approach that can be a slate style tablet (like the iPad) one moment, but turned into a laptop (with professional keyboard) the next. We recommend the Lenovo Miix 510, Acer Switch Alpha 10 or 12, and the Microsoft Surface Pro range of 2-in-1 devices.
Virtual Reality & Augmented Reality
Virtual Reality (VR) helps bring learning to life, providing a deeper, more immersive educational experience to the classroom.
Google Expeditions is a low cost solution that delivers over 500 VR experiences. It uses handheld technology and apps available from Google's Play or Apple's App Store on iPads and Android devices.
We recommend Google Expeditions with the ClassVR headsets from Avantis. The Avantis solution includes 8 x headsets, charging and storage case, and a cloud based controller that provides an affordable and integrated solution, costing around £1,999 for educational providers looking for a new, innovative way to enhance the teaching and learning environment.
With curriculum-aligned content and structured lesson plans, teachers can use the VR headsets to take students on virtual fieldtrips to places such as Mars, the Great Barrier Reef and Buckingham Palace.
We also recommend schools purchasing a 3D camera, such as the Ricoh Theta S so teachers and students can make their own videos and bring those experiences back to life in the classroom
Just like VR, Augmented Reality (AR) is set to have a huge impact on education technology. Slightly different to VR, AR simulates superimposed, computer-generated artificial objects in the real-world environment (think Pokémon Go) and printed material, enhancing the perception of reality. Because the ClassVR headsets from Avantis have an AR camera built into the headset, they work with both VR and AR software.
AV/Interactive Whiteboards
The right audio visual set up is a sure-fire way to increase collaboration and engagement in the classroom.
Interactive boards better reflect a connected, knowledge sharing community, with large format displays, (e.g. 65" to 85" displays) and/or interactive touch screen displays enabling teachers to project media to the front of class.
Traditionally most schools have used SMART or Promethean displays that have a huge library of resources and worldwide community for support. But there are also many alternatives from partners such as Clevertouch, CTOUCH, and Iiyama who also offer a great range of classroom ready tech.
LEGO® Education
LEGO® Education is low cost, fun and a great tool for learning. It comes with a programming instructions sheet and covers big sections of the coding/computing curriculum. LEGO® Education makes both primary and secondary school science and computing come to life.
Through real-life STEM challenges and engaging physical and digital creation, it encourages students to develop coding skills as they program solutions in a real-world context.
With all LEGO® Education software, curriculum material and teaching support is available to download free. There is a wealth of inspiring content and support across a range of subjects.
Online Safety and Safeguarding
Internet safety is part of Personal, Social, Health Economic (PSHE) education and ICT in schools, but many schools simply don't know how to teach the subject effectively. But there are a host of innovative ways to overcome this.
One example is Gooseberry Planet. The app uses gaming technology to help children learn about internet safety. During a game, children are exposed to online issues requiring a response such as meeting strangers, bullying, grooming and sexual exploitation.
The platform encourages the participation of parents and teachers to discuss the issues raised in the game with their students, and to monitor their reactions to the situations.
The games target 4 to 13 year olds, covering key stages 1 to 4. There are 5 levels in total; each level has been adapted for different age groups. Two other apps sit alongside the gaming software: Gooseberry Teacher and Gooseberry Parent for monitoring and providing resources.
Looking at internet security and web filtering solutions, Smoothwall, is a good choice for schools who want real-time monitoring, included with reporting, social media controls and BYOD policies.
If you are looking for a high end cyber security solution, you can look at specialists such as Falanx, a global intelligence and cyber-defence provider for both the private and public sector. Their MidGARD solution allows you to monitor threats 24/7 using the latest advanced techniques. Once a potential cyber threat is detected Falanx will intervene, preventing damage before a breach of security.
Refurbished devices
It's no secret, that schools' budgets are stretched at the moment – and buying new technology may not be within reach.
As a result, refurbished devices may be a better option for some. A device that's referred to as 'refurbished' has been returned to the manufacturer or an approved refurbisher and internally and externally cleaned and cleared of any defects. Refurbished doesn't mean 'old', normally these devices are between a few months to few year's old, but can be purchased at a much lower price point – usually from 10% up to 40% less.
Don't forget to follow us on Twitter, like us on Facebook, or connect with us on LinkedIn!