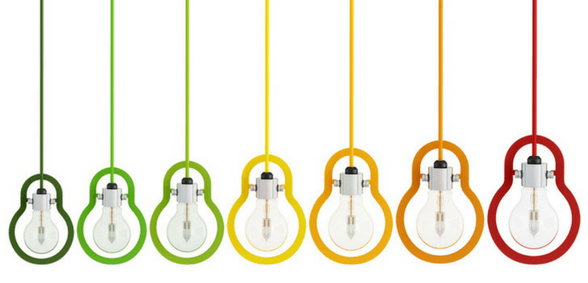 Clever ways to save on energy are never far from the headlines – from solar panels to removing unneeded light fittings – but the growing reliance on ICT continues to contribute to overall energy costs. Hayley Zimak finds out how you can save money by using the latest energy efficient computers, switches and printers for a more sustainable and less expensive experience
I rarely forget to turn the lights off before I leave the house and can only attribute that to years of my parents yelling up the stairs at me to do just that. As a teenager I'd huff, turn around and slide my hand along the wall until I found the switch. Decades later (and now fully responsible for paying my own electricity bills) I don't need the reminder; lights are off, the computer is powered down at day's end and sockets are switched to power-saving mode when not in use. As the SBM we're well aware that you're responsible for paying your own bills too and in tough economic times every penny matters.
The surge of ICT in schools is a wonderful learning tool for pupils but energy-guzzling machines can add an additional cost – and environmental burdens – that are best avoided whenever possible. Equipment not only uses electricity directly it also places further demand on the power grid when lighting and cooling is required. Fortunately, there are power management features and energy efficient options available.
Striving for sustainability
"Technology manufacturers are acutely aware of the need for enhanced sustainability and so are constantly working hard to introduce upgraded hardware and software solutions," says Paul Young, head of technical services at UTAX Ltd. "When it comes to printing, low-energy modes, automatic sleep functions and short wake-up times all help to reduce overall consumption. Regulation is driving change to conform to more stringent environmental requirements; guidelines are coming in next year as lower typical electricity consumption (TEC) values will be required in devices."
The paperless classroom is still some way off according to KYOCERA's annual survey which shows that 69% of teachers print more than 3,000 sheets of paper per term. "Today's eco-friendly printers facilitate the very necessary need to print in schools but produce 85% less electronic waste during their lifetime. Devices like these – which overhaul printing making it less wasteful, more efficient and lower in cost – don't only help schools to reduce their carbon footprints but also produce cost savings," says Pauric Surlis, public sector manager at KYOCERA Document Solutions UK Ltd.
"Many schools are also beginning to recognise and adopt the benefits of managed print solutions (MPS) and document management. As schools sometimes have several buildings across multiple sites, managed printing allows a fleet of devices to be tightly controlled by the IT department, helping to cut down on waste."
John Srawley, IT procurement manager for national service delivery at RM Education, says companies are working together under the Electronic Industry Citizenship Coalition (EICC). "Lenovo and Dell are really leading the way; they've been working hard under EICC to confirm sustainable social aspects are taken into account in their supply chains. This leads to certifications such as TCO certified for computer and notebook products." TCO is an international third party sustainability certification for IT products, administered by TCO Development.
"In recent years, hardware manufacturers have made some significant advances to continue to accelerate the performance and capabilities of their products whilst reducing the energy they consume," agrees Richard Jones, managing director at Agile ICT. "ICT is a critical foundation for effective teaching, learning and the day-to-day operation of a successful school; its footprint is only going to increase and the demands placed upon it are only going to continue to grow.
"Computers can generate a lot of heat, which is a waste of energy. In server rooms that heat has to be managed if the hardware is not to slowly cook itself to death. This is typically achieved with local air conditioning units which, in turn, consume more energy."
Compare and contrast
Richard says that when it's time to replace your old IT hardware, or add new devices, you can benefit in very simple ways. "Consider an ultra-small form factor PC that's engineered to run cool – it doesn't even need a cooling fan, which saves even more energy. These reduce the background noise levels in classrooms and generate very little heat."
If that's not quite the solution for you, ensure that whatever PC or laptop you buy has a SSD hard drive as these offer a better performance and generate less heat. "Another option is data switches; modern versions no longer need cooling fans as they use the electrical energy more efficiently in the first place and, by not needing a fan, save even more heat and electricity."
John recommends using EnergyStar certified products and ICT products that are efficient for their intended use. "For example, a tablet may require less energy than a notebook or a PC, so consider what's actually required. We'd also suggest comparing the energy consumption of products you'd like to procure – professional manufactures can provide this information easily.
"It's important to take into account the fact that the way products are used has the greatest impact on energy costs, regardless of their stated energy consumption on paper. Use the power management functions of your ICT products to power down when not in use. Unplug from the mains when not required, don't leave products running or on when they're not in use and don't use screen savers."
And it never hurts to reconsider a routine action. Pauric says the most important advice he can give is to consider whether your document even needs to be printed at all. "Document management has evolved to such an extent that there are now numerous, more sustainable options which could better suit your needs."

"A typical primary school has 40 PCs and laptops – if only one in 10 is left on overnight that's almost £200 per annum in wasted electricity" – GS plus
Show me the money
While savings vary from school to school Paul says they can be considerable. "We've seen schools save upwards of 30% on the print side by introducing energy-efficient, up-to-date devices and rule-based printing.
"Look for energy-efficient print hardware. Check Buyers Lab International results; they test print hardware for energy efficiency and so are a good source of information." He adds that XL toner cartridges last longer than standard cartridges and so reduce plastic usage, have a lower carbon footprint, cut admin time and save money.
Mark Ash, head of print at Samsung UK and Ireland Managed Print Services, says not only can costs be cut by up to 30%, you can also help cut your school's carbon footprint as well. "Services such as pull printing eliminate waste paper that's not collected by ensuring secure release at the device, improving the speed and quality of the user experience. It's also important that schools look to optimise their fleet of printers to ensure that they meet the needs of staff and pupils."
Richard says the best way to reduce your IT and related costs is to take a holistic view. "A simple, but often overlooked, starting point is the energy efficiency of the building itself. Properly thought through insulation pays so many dividends – buildings are warmer in winter but also cooler in summer.
"Schools typically have a lot of glass and this offers poor thermal efficiency. If rooms get hot due to the sun streaming through the windows have some thermal film applied – it's cheap and very effective."
ICT use in schools is here and is only expected to grow; ensure you keep up with the latest developments and trends while remaining sustainable and cost-effective. After all, shutting down your PC, thinking before printing and reviewing your devices will save you money in the long run!

Paul's top tips to decrease energy costs:
Standardise printer fleets to use the same technologies and so save on toner and other consumables; time and money is saved and purchasing becomes more efficient.
Choose devices with longer lifecycles; this results in less servicing and fewer new machines which means fewer resources used, less transportation is needed and lower CO2 emissions.
Use software to control output; printers can be set to default print in mono and duplex which reduces wasteful print and paper consumption.
Print control where users have to enter a PIN Code or touch an ID card to release print can reduce duplication of print-outs, saving energy and consumables.
Ensure pupils can only print during class time.
Don't forget to follow us on Twitter, like us on Facebook, or connect with us on LinkedIn!