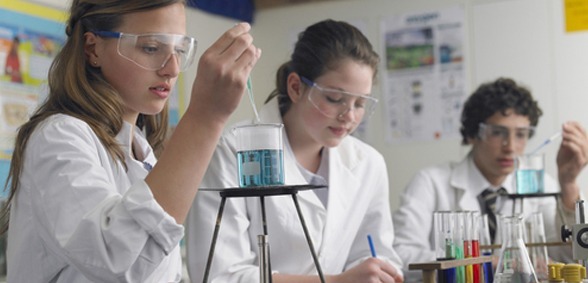 CREDIT: This story was first seen in Information Age
New research from Accenture reveals that young people in the United Kingdom and Ireland are most likely to associate a career in science and technology with 'doing research' (52%),'working in a laboratory' (47%) and 'wearing a white coat' (33%). The study found that girls are more likely to make these stereotypical associations than boys. Information Age reports.
Accenture has released this research to coincide with their nationwide Girls in STEM UK events.
The survey of more than 8,500 young people, parents and teachers uncovered some of the barriers to girls pursuing STEM subjects and careers.
It found that over a third of young people overall (36%) are put off studying STEM because they are unclear about what careers these subjects support.
More than half of parents (51%) and 43% of teachers agreed that students lack understanding about career options related to STEM.
The research also found evidence of gender stereotyping and bias around STEM subjects.
Almost a third (32%) of young people think that more boys choose STEM subjects than girls because they match 'male' careers or jobs.
The perception that STEM subjects are for boys only is the primary reason that teachers believe few girls take up these subjects at school.
"Girls' engagement with STEM is clearly waning as they reach the age when they begin to consider their subject choices and future careers," said Emma McGuigan, senior managing director for Accenture Technology in the UK & Ireland.
"We have to address this by doing more to spark and retain girls' interest in STEM at an early age, while expanding perceptions and demonstrating what a career or a person who works in STEM looks like beyond the traditional stereotypes. Inspiring more girls to pursue STEM subjects and careers will not only help us to address the skills gap in science and technology, it will also help us to create a more diverse workforce that truly represents the world we live in."
The findings coincided with the UK 'Girls in STEM' events hosted by Accenture and Stemettes. Events like this and others, such as Tomorrow's Tech Leaders Today, hosted by Information Age as the UK's largest tech careers fair women, are fundamental for motivating and inspiring women into the technology sector.
It helps break down stereotypes, boost confidence and provides a platform for networking where real opportunities to enter the industry materialise. For future generations even more has to be done, starting by ripping down preconceptions at school.
Don't forget to follow us on Twitter, like us on Facebook, or connect with us on LinkedIn!