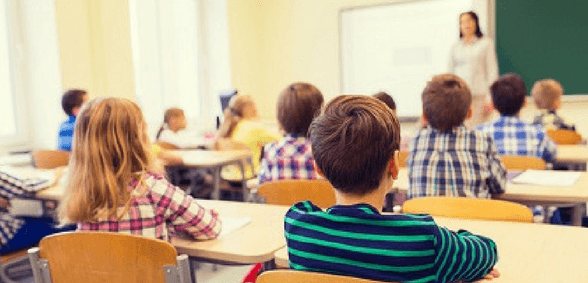 Ben Evans, of Edge Grove School, considers the teacher crisis and explores seeking out the very best for your school
According to official government numbers many hundreds of thousands of children across the country are being taught by unqualified teachers who lack the skills and experience to teach. Whether or not the statistics are to be believed is beside the point; the fact is many children across the UK, are being taught by unqualified teachers and that is completely unacceptable. It's no secret that there is also a growing problem with the shortage of qualified teachers willing to work in the UK.
Within this group of unqualified or under-qualified teachers, there are also lots of different cases. For instance, no teaching qualifications but a degree in the subject they are teaching, equally there are some with a degree that is not related to the subject(s) they teach and some with no degree at all.  Some retain qualifications from overseas (for example, teaching diplomas, PGDE, etc.) all of which don't fully equip teachers for the UK system and expectations.
A less than positive light
It is, of course, well documented that the teaching profession is not always seen in the most positive light being associated with long hours, stressful situations, difficult parents and pupils, average salaries. Having said that, the starting salary is very good for a recent graduate and can reach £50k plus when on leadership scales even in medium sized schools. That said, it is often the perception that teaching is not a highly regarded profession and that teachers themselves are not always well respected, especially when one hears of stories of regular abuse by parents and also pupils.
The reality is, there are many other avenues for well-educated graduates (medicine, law, finance) that all attract higher salaries and social status. Added to this, there are shortage subjects such as maths, sciences, geography, MFL, classics, which stems from popular A-Level and degree choices.
How do you know if a teacher is unqualified? The truth is, it is unlikely that most schools would even shortlist candidates who were unqualified unless they had no choice. Do they have a good degree in the subject they are teaching? (i.e. Are they subject specialists with a deeper understanding of their chosen specialism?) Do they have a recognised teaching qualification? If not, their applications should not be taken any further. If on the surface, their qualifications look suitable one of the most important aspects of the interview process is to teach a lesson. At this stage, any knowledge gaps or uncertainty is easy to spot, as is the ability, or lack of, to teach. A proficient and competent teacher is very easy to spot, as is a poor one.
Safeguarding the quality of teaching
Sometimes there are cases when a candidate can impress on the day with their 'interview' lesson but then it later becomes obvious that their teaching and pedagogical skills are not good enough. It is then the role of the school to support such teachers and give them clear and specific targets and the help to achieve them. If this approach does not work, then unfortunately schools have to look at competency procedures to safeguard the quality of teaching and learning for their pupils.
The quality of teachers' subject knowledge and ability to teach stretches right back to their primary education. Do they have a good grasp of English; syntax, grammar, vocabulary? Can they write well and speak clearly and precisely? Likewise, do they have good general knowledge outside their subject areas, are they well read, follow and understand domestic and foreign current affairs? Did the teacher sit a good range of GCSEs in addition to the core subjects including history, geography, MFL (not just media studies, drama, art, photography, etc.) and likewise at A-Level. What grades did they achieve – for instance three or four A levels at grade C or below does not necessary suggest a good enough standard. Which university did they go to and what class degree did they achieve?
All of these aspects matter coupled with a decent teaching qualification. The ability to be able to teach is paramount (being qualified to teach doesn't guarantee this either) as is having natural affinity with children and real passion for the profession. However, passion alone is not enough and excellent subject knowledge is essential.
Many excellent teachers are taken on in-school graduate training programmes rather than qualifying at university. This is a good route for those who have been in other professions before coming into teaching but it does rely heavily on the resources of the school to train and support those teachers (mentoring, lighter timetables, CPD) to a high standard. It cannot be seen as a cheap and easy way to fill difficult vacancies.
Damaging long term effects
For schools that are resorting to employing either unqualified or poorly qualified teachers, the impact on teaching and learning standards is huge. Similarly to any job, which is undertaken by someone unsuited or incompetent, teachers that are unqualified will impact negatively on pupil achievement, wellbeing and overall standards. We would not want to be treated by an unqualified doctor or dentist but somehow it is deemed to be acceptable in schools because the immediate impact is unlikely to cause death or pain. However, the long-term effects are damaging.
If things are to change, we need to ensure stability and consistency within the education system.  Constant changes and 'improvement' by every incoming government does nothing but harm and causes even more discontent to the profession. We need teachers to feel valued and this does not have to mean higher salaries. Greater respect for the profession and understanding of what actually happens in the classroom every day. In many countries around the world, education is seen as a priority and something to cherish and respect – this needs to happen in the UK. With greater stability and consistency with the core principles of education will come happier teachers and higher achievement. This in turn, will attract the best possible recruits to the profession – well-qualified and well trained with a true pedagogical passion and enthusiasm.
Greater school to school support is needed
Most good schools spend a great deal of time ensuring their staff are well trained through professional development reviews and training and that this is a continuous process. However, it must go far beyond a few days of pre-term inset, which whilst enjoyed and valuable, can soon be quickly forgotten due to the exigencies of a busy and demanding job. Regular weekly training linked to staff appraisal priorities and teachers' own areas of interest must be in place.
Visits to other schools to observe good practice and share ideas are a good idea, as are teach meets and regular observations. All of this and so much more does happen in the best schools but it is not wide spread enough. Either schools do not have the resources (money or time) or their priorities are not centred on staff development, the importance of being reflective and continuous self and school-wide improvement.
There will always be excellent schools and there will also be those schools that have a number of areas for development, for varying reasons. It is now time for greater school to school support, both within independent and the maintained sector without the stigma of labels or gradings, but to ensure the best possible standard of teaching and learning for our pupils.

Don't forget to follow us on Twitter, like us on Facebook, or connect with us on LinkedIn!