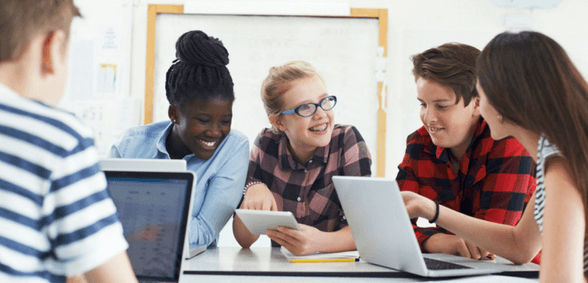 If you're looking to secure some new edtech for your school – or if your current lease on ICT equipment is due to expire – it is worth considering your options when it comes to leasing or purchasing. Alex Smith, IT manager at St John Vianney Catholic Primary School, and ANME member, weighs up the pros and cons of both
When deciding whether to lease or purchase new equipment, considerations must be made – how long does the school intend to use the equipment? What does the school do with old equipment? Will it have any residual value at the end of its useful life? And, of course, which is the cheapest?
Forever decreasing budgets make leasing seem an ideal option to save money – but are leases just a short-term solution to a long-term issue?
Here's an example. Resellers offer tablets on a three-year lease (including extended warranties/insurance, rugged cases and MDM subscription) for an annual charge per device, per year. Sometimes they'll even throw in a charge trolley for a class set.
Sounds great…but what happens after the three years? Most companies allow you to pay the 'current' value of the devices at the end of the term to keep them, or you can return them. Many schools I have visited, which lease tablets, have used pupil premium funding to provide a 1:1 scheme for their devices.
Leasing makes access to the latest technology more viable, attractive as the education sector becomes increasingly less affluent – particularly for bigger projects in smaller schools. Leased devices tend to be provided with extended warranties/insurance, which run throughout the contract period and cover device faults – not all providers cover accidental damage, though.
So, am I better looking to purchase equipment outright?
Sticking with the previous example, using education pricing you could buy the same tablet outright for a similar price (three x annual device charge). The extended warranties/insurance, rugged cases and MDM would need to be purchased separately and, when purchasing a class set, you'd also need to buy a charge trolley.
This option would only be open to more affluent schools which can afford to pay out lump sums; it would also mean they own the devices which can be used until the school decides otherwise. Most schools which purchase tablets outright use them for at least five years before looking to upgrade – at which point it's only due to OS limitations and app compatibility restrictions that they're forced to. The only thing they'd have to keep paying is the mobile device management (MDM) fee.
When the school decides a device refresh is required, the old devices can be checked for residual value to sell on, or to trade-in, giving the potential to reclaim some money. Of course, a refresh would mean another lump sum to purchase the new equipment again.
Dependent upon device manufacturers and resellers, most devices now come with warranties, ranging from three-to-seven years, for little or no extra cost. This leads to longer life spans – sometimes more than double the average three-year lease period, constituting a cost-saving over time.
The decision!
Ultimately, the decision will depend on your school's approach to procurement and your IT refresh strategy. Many prefer smaller annual costs in order to have the latest devices without a lump sum, whereas others prefer a lump sum to purchase the devices outright and use them beyond their recommended end of life date; who hasn't been in a school that's still using a 15-year-old smartboard?!
Extended warranties and longer lifespans can make purchasing equipment outright a better financial decision in the long-term, but how long do you, realistically, want to use a device before it becomes outdated? Likewise, leasing has become an increasingly popular solution because it enables schools to access the latest technology – but can the school guarantee consistent and reliable funding to support the ongoing costs?
Both options have their place, and both should be considered for larger projects – either can work out cheaper depending on the reseller and finance company.
Always remember to check the small print, as some companies will use third party underwriters for the finance which may charge a fee for each lease agreement. They may also add a fee and/or interest onto any final payments and could fine you if the device has been returned damaged/marked. It's also worth noting that most companies will offer shorter or longer lease terms depending on the school's requirements but, on average, the cost of leasing vs purchasing breaks even at around the three-year mark.
With the extra costs and fees, leasing can work out more expensive in the long-term.
Don't forget to follow us on Twitter, like us on Facebook, or connect with us on LinkedIn!