How do schools achieve excellence and how do they maintain it? The latest insight from Teach First exploring sustainable success in schools serving disadvantaged areas
This is a sponsored post by Daria Kuznetsova, executive director for strategy, research and performance at Teach First
Recruitment and retention are a widespread area of concern in the teaching profession. Whilst there's positive work planned by the Department for Education as part of its Recruitment and Retention strategy, data published in June this year found that the number of secondary school teachers continue to decline.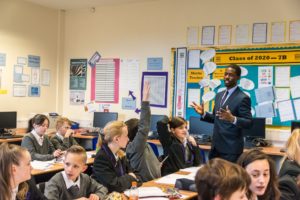 As part of our work to build a fair education for all, it's important we identify the ways we can support the schools most in need and help them sustain improvements over the long term. Taking 'sustainable success' as achieving excellent results for pupils while maintaining good working conditions for teachers, we embarked on a research project. It consisted of seven in-depth case studies of Teach First-partnered secondary schools who we considered hit this mark. Here's what we found:
The schools planned change. It was put into practice over the long-term
They had clear visions and often fully articulated plans on how to achieve these over the next 3-5 years. The schools were also steady in their approach to applying change. Both changes to existing practice – like reviewing the curriculum – and the introduction of new approaches to professional development, would be discussed, planned (making clear everyone's roles and responsibilities), introduced and evaluated at the end.
This often made them look outward to their networks for inspiration and help on improving
Senior leaders were often involved in several national and regional initiatives. They would both visit and host other schools to learn more about particular practices on a regular basis. This supported recruitment and retention: staff knew of the school's strong local reputation, which encouraged them to stay, as well as to join the school in the first place.
There was a focus on staff wellbeing and opportunities for flexible working
Staff wellbeing at these schools was considered as part of the bigger picture of the school's success, and not a separate issue. Many schools offered opportunities for part-time work, to new and current staff – often introduced after maternity leave. Part-time and flexible working came with some hurdles but schools were working to tackle these, often through well thought out timetables.
A sense among staff that you are 'always learning'
Across the schools we visited, staff from all levels of seniority reported having many opportunities to develop professionally and said that they found it useful. In schools where professional development was a top priority, there was a sense of responsibility to improve.