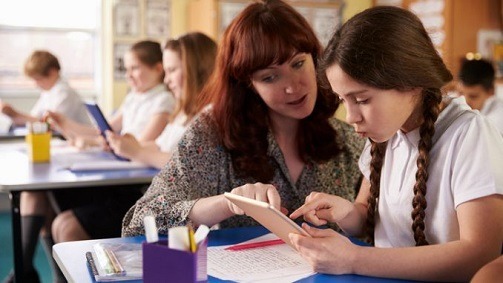 As school starts back up for the new academic year one seems to be lacking. According to new figures released by Eteach the recruitment crisis continues to deepen as with more teaching posts remaining vacant this September
As pupils across the country return to the classroom, new data from Eteach reveals schools are carrying nine per cent more unfilled teacher vacancies into September than this time last year. Compared to September 2015, there is a worrying 24% increase in vacant teacher posts.
Eteach has analysed teacher vacancy figures from 7,000 schools to take the temperature on the nation's growing teacher recruitment crisis.

Key findings:
Eteach data reveals vacant teaching posts have increased 24% over past two years, with nine per cent more teaching vacancies this September than the same month in 2016.
At least 300,000 pupils will be without a permanent teacher as the 2017/18 academic year starts.
Two-thirds of teachers are looking to leave their current role within the next three years.
Data from a quarter of the UK's schools, shows there will be almost 14,000 teacher vacancies as the school year begins. With an average UK class size of twenty-two pupils, this leaves at least 300,000 pupils without a permanent classroom teacher this September.
With many teacher training places going unfilled, government recruitment targets have been missed and the situation is worsening against a backdrop of rising pupil numbers.
Meanwhile more teachers are leaving the profession. Eteach surveyed over 1,800 teachers and the newly released data reveals two-thirds are thinking of leaving their current job in the next three years. Of those, excessive workload (48%) and low morale (38%) were given as the most prominent reasons for planned resignations with 80% of teachers taking work home with them on weekends and during holidays.
However, despite increasing pressures, over half of teachers (56%) would still recommend the profession to a friend.
Paul Howells, founder and chief executive of Eteach says:
"In my 20 years of working with schools on teacher recruitment I have never seen so many unfilled vacancies. Teaching is failing to attract enough graduates, and schools are struggling to hold on to their current teachers, creating a perfect storm of pressures.
As schools start the new academic year thousands will be scrambling for last-minute supply staff and paying agencies a premium for emergency cover during a period of tightened budgets. Despite the nature of the school recruitment calendar there are steps schools can take with a more proactive approach and new technology to mitigate the growing September supply crisis."
Don't forget to follow us on 
Twitter, like us on
Facebook, or connect with us on
LinkedIn!