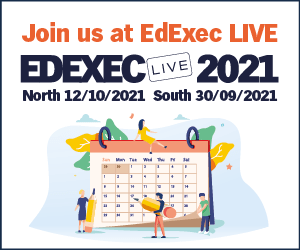 Join us for one of the first face-to-face SBL events to happen this year – EdExec LIVE 2021!
We are so excited to currently be planning for our 2021 events in London (30 September) and Manchester (12 October) after a year of social distancing, lockdowns, cancellations and postponements of countless events. As one of the first face-to-face post-lockdown SBL events, we promise to make it a reunion you won't forget and a day that has been worth the (very long) wait. We can't wait to see your faces and we're sure you can't wait to attend an event that isn't marred by poor wi-fi, or interrupting family members!
Following more than a year of lockdowns and stay at home messages, more than ever we understand the value of face-to-face interaction, networking and collaboration. As well as a chance to socialise and catch-up with your fellow SBLs (and we know there is a LOT to catch up on!) the day will be packed with opportunities to learn, share experiences and meet like-minded individuals -and will, as usual, be topped off with a welcome glass of wine.
Keep an eye out for more updates over the coming weeks and months about what you can expect from the day including speakers, exhibitors and how to claim free tickets!
For more information about the day click here. Or alternatively, email us at [email protected] to express your interest for a discounted ticket!