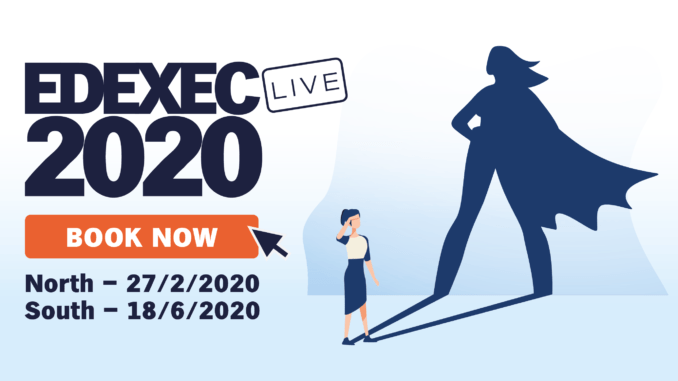 EdExec LIVE 2020
Manchester, February 27
London, June 18
At a school business management conference what are your must have features? Learning? Or, networking opportunities? Exposure to the latest trends and initiatives affecting your role? Or, just a worthwhile day away from the desk with plenty of information to take-home, knowledge to be shared and lasting, beneficial relationships to be made – with peers, consultants and service providers?
EdExec LIVE delivers all of the above; and this year we have decided to jazz things up a little so that each component is optimised and the value – to you – maximised.
There are a thousand reasons to attend but, in the name of efficiency, we've made a quick list:
Tailored to school business management
Budgets keep getting tighter while expectations increase; EdExec LIVE is about assessing the educational landscape and mastering the art of treading the financial tightrope. Sessions are budget-focused and school improvement-driven, providing examples of how you can make and save money whilst improving your school's environment and performance.
An interactive learning experience
Sessions cover finance, CPD, ICT, benchmarking, wellbeing, management, contract management, procurement leadership and much more. All are interactive forums for discussion – no sermons! Visit our seminars page to learn more.
Time is of the essence
It's not easy leaving school for a day – who knows what might happen in your absence? EdExec LIVE is scheduled so you attend the sessions you want, with the seminars we expect to be most popular doubled up, allowing more delegates to sit in on what interests them most.
Meet peers from across the UK
EdExec LIVE is a hub of school business management innovation. There's no better support than peer support and our event is an opportunity to meet local and national colleagues, share best practice and form professional relationships. We have factored in plenty of networking opportunities to our timetable.
Book here! http://edexec.co.uk/edexec-live-2020/book-tickets/
Don't forget to follow us on Twitter, like us on Facebook, or connect with us on LinkedIn!