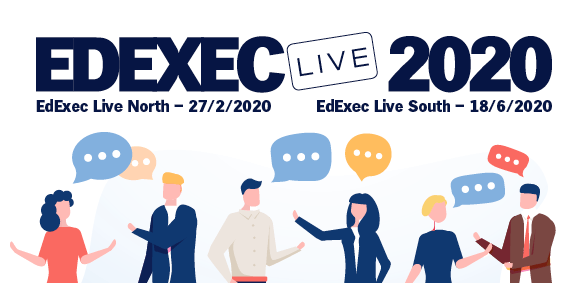 Dates for 2020's EdExec Live events have been confirmed for 27 February (Manchester) and 18 June (London); early bird and free tickets are in limited supply, so flag your interest by e-mailing [email protected]!
Here at EdExec Live we live, breath and write school business management; the content is tailored to deliver the information most relevant to you – and this brought to life in the live event! Regardless of which areas of school business management you focus on, we've got something for you – from leadership confidence and whole-school wellbeing, to price negotiation and benchmarking (and loads more!).
Also…
The ever-more-challenging financial climate. Budgets are tightening, expectations are increasing and schools are being forced to do more with less. EdExec Live aims to bring together innovative solutions that will help you strengthen your school's position – now and in the future.
Information to go EdExec Live is an interactive learning experience for you, the SBM; you'll benefit from valuable seminars – the information for which we're updating all the time – delivered by sector experts keen to ensure that you get value for your learning.
Connecting people No one knows the business of running a school better than those who do it, but we know how difficult it is for you to find the opportunity to leave the office; it's well worth the effort, because EdExec Live is a fantastic opportunity to network with others in the profession, share experiences and solutions and forge long-lasting professional relationships to benefit you and your school.
The great work-life balancing act Our events are also an opportunity to develop your existing skill-set. Additionally, as the role of the SBM develops, opportunity blossoms; the event explores the options for personal progression and is a chance for you to speak others who are either considering their next steps or have already taken them.
Interest piqued? Find all of the information for the events here!
Don't forget to follow us on Twitter, like us on Facebook, or connect with us on LinkedIn!