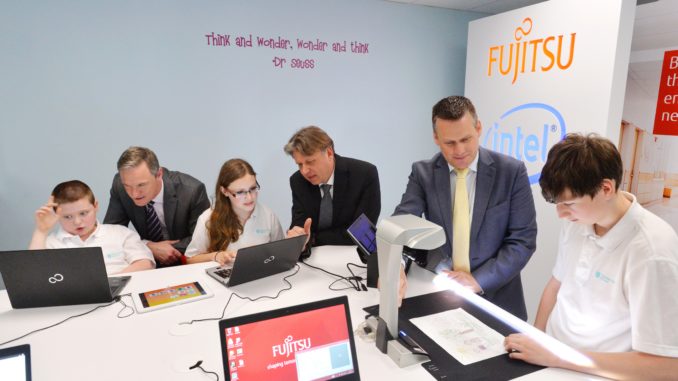 When the digital and non-digital collide the results are more effective and secure communications and information-sharing. Andrew Cowling, channel marketing specialist at Fujitsu, discusses successful paper-digital collaboration
There are several benefits for schools which choose to digitise their data and, as the technology continues to evolve, more efficiencies will be realised. Scan More; Print Less – published by Naace in conjunction with Fujitsu – identifies benefits to schools which extend beyond financial savings; going digital enhances learning, improves internal and external communications, helps towards GDPR compliance and effective delivery of SARs, and reduces workload – in the classroom and in the office.
Implement with intent
A digital school environment can provide staff, students and parents with ready and immediate access to a variety of online communications and resources and positively impacts key areas – such as communications and information, support and learning, digital capture of evidence of pupils' work and progress, professional development and parental support, office systems – securely and effectively, thus supporting GDPR compliance.
Removing barriers to efficiency
There can be barriers to successfully implementing a digital environment, but nothing that can't be overcome with some foresight; schools need to establish a digital environment and provide the tools stakeholders need to digitise and work within it. Technology pre-conditions: There can be reluctance to move from traditional to digital processes; having the infrastructure to support change is essential – do key stakeholders have sufficient access to the internet? Difficulties can occur where parents can't access digital communications and require a paper-based alternative, or if students don't have internet access outside of school.
Online systems and storage: Choosing the right online environment – one that is secure and meets your schools' needs – is key; consider access restrictions, ease of use, password security, tagging (for record filing) and data security – is it GDPR compliant?
Management: Who's responsible for management and information provision? In the digital environment this is most often the originator of the information; the exception is when what's provided needs to be moderated or authorised.
Scanning and digitising: Having the equipment to digitise documents is essential; there are numerous devices available to make digital copies of student work and wider school activities – for example, video and camera equipment, audio recorders and scanners. Feed and flatbed scanners and visualiser-type devices have several advantages and Fujitsu scanners can provide:
quality images
content that is searchable and retrievable – not just an image
automatic adjustment – to capture curved pages in books, for example
bundled OCR software that converts scanned documents into digital files, such as word processor files, or tables into spreadsheet files
rapid batch-scanning of a series of sheets of paper
automated functions like auto-rotation, de-skew, blank page removal, auto colour detection – to minimise operator-time pre and post-scanning.
How will you digitise? At Fujitsu we're fluent in digital and happy to advise on how you can best implement a digital environment in your school.