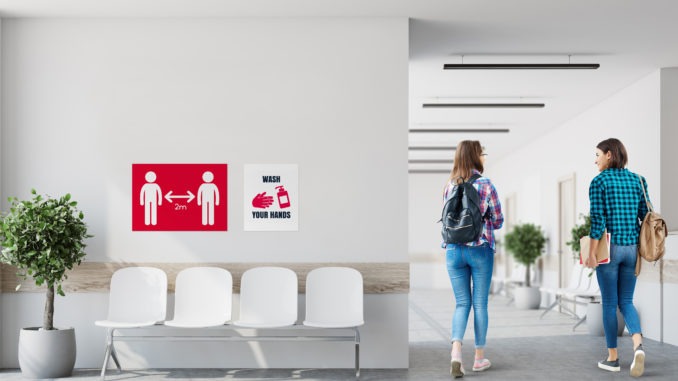 Now schools across the UK have reopened to full capacity this month, things look and operate a bit differently than they did back in March when they initially closed. So, how can lamination aid the transition into the 'new normal'?
As some schools remained open through the pandemic, they had to quickly adopt new procedures and had to work hard to safeguard pupils and staff.
Now that all schools are now open for a full return, one thing is certain – health and safety will be a top priority for this academic year and beyond, with new measures in place to help safeguard the wellbeing of students and staff.
Signage for successful measures
For any new health and safety measures to be successful in the school environment, they need to be clearly communicated. Students and staff should have no questions or concerns about what is required of them while on campus. Signage in classrooms, reception, corridors, toilets, halls, and canteens will help to accomplish this, and remind students and staff to comply with any new measures that may be in place.
Laminating signs helps to protect and preserve these important notices from damage, destruction, and vandalism. This is crucial in high-traffic areas such as school corridors. Since the signs are preserved in plastic, lamination allows them to be wiped down and sanitised regularly without damage. In a post-COVID school environment where hygiene and safety are paramount, the ability to sanitise is extremely important.
Lamination is a simple solution that will allow teachers and administrators to produce, display and replace or update signs when necessary, all while easily maintaining new hygiene and safety standards.
Lamination and education
Educators are no strangers to lamination. Teachers and administrators often use lamination to extend the longevity of signage posted around the school and the useable lifespan of the handouts used by students in the classroom. As schools often have limited budgets, lamination makes a huge difference in helping resources go further.
However, time is the most valuable and limited resource in education, and many teachers and administrators do not have much of it to spare in their busy schedules. Lamination is traditionally viewed as a time-consuming and somehow frustrating task. Machines can only tackle one document at a time, meaning the user has to stand around loading and reloading the machine and waiting until the job is done. If the document is not inserted in the laminating pouch properly or the pouch is not fed into the machine in a straight line, time will be wasted redoing the job a second time.
Teachers and school administrators need to ensure that any other non teaching-related tasks can be accomplished as efficiently as possible. Having the right tools at their disposal can help to alleviate this pressure and free up valuable time.
Selecting the right lamination tools for schools
When choosing a laminator for school use, several key features and benefits need to be taken into consideration. For speed and simplicity, the machine should be easy to operate with features like auto speed, fast warm-up and a built-in cutter. Batch lamination is common in the school environment and the machine should be able to tackle a large volume of documents at once. It is important to consider that pouch laminators require manual loading, meaning they can be subject to poor quality finishes or costly repeats if loaded improperly, and cannot be left unattended until the job is done. Automatic laminators are a wiser choice for efficiency and accuracy. Additionally, the machine itself needs to be well constructed and durable, so that it may continue to run smoothly for years to come.
Since we were founded in 1947, we at GBC have striven to be the most reliable, efficient brand in the classroom, office, print/production room and other places of business. We introduced the first table top laminator in 1966 and have continued to innovate and provide equipment and supplies that work fast the first time around.
Today, we are a global expert in lamination and offer a full range of laminators, supplies, and accessories. We recently launched the world's first fully automatic table top laminator, the Foton 30. The Foton 30's touch-and-go operation makes it possible to tackle up to 30x A4 or A3 documents with the touch of a button, which is especially useful when laminated signs and documents are required in volume and at speed.
This is crucially important in a school setting. With teachers and support staff busy catching students up on the curriculum and making up for any delays that the pandemic may have caused, time is more valuable than ever. Administrators will have their hands full ensuring everything runs smoothly during the transition into the new normal. Every spare moment counts.
In just four easy steps, the Foton 30 gets the job done quickly and perfectly every time. Its fool proof operation feeds, laminates and cuts automatically. No more standing around until the job is done. The Foton 30 automatically straightens all pages, detects thickness and controls spacing. The user can simply drop the paper into the feeder, press 'run' and walk away to complete other tasks.
Since the Foton 30 uses a unique roll film cartridge, there is no need for pouches. That means the job gets done right the first time with no need for wasteful or time-consuming retakes. A little goes a long way with the Foton 30, as one film cartridge laminates up to 250x A4 sheets.
Lamination tools will be a huge help to educators in the return to school post-COVID. Signage will help to clearly communicate new procedures around campus, while laminated documents and handouts can be sanitised for long-term use in the classroom.