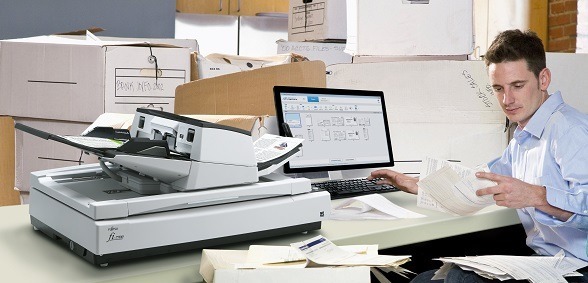 Technology has an important presence in schools, from the classroom to financial management. One area that might be overlooked however, is in admin and the handling of documents and communications. The whitepaper, Scan More; Print Less – published by Naace in conjunction with Fujitsu – identifies how schools can actually save money, time, reduce workload and improve internal and external communications, all by digitizing documents and moving away from paper
With the backdrop of squeezed budgets, the opportunity to save money isn't to be overlooked. The white paper stresses how business can save money by replacing 'print and copy culture' with intelligent document scanning. With scanners costing about the same as a printer, the added ability to save documents to a school network and provide easy access and information sharing is a big benefit. This decreases the need for copies, speeds up communications and allows documents to be transmitted in seconds.
Saving time and space
While many may expect the cost savings to be solely referring to paper, toner and postage, there are indirect savings that can be made as well. The first of which is time. Having documents digitized and available on a network means that physical handling is removed. There's no need to spend time searching for, or delivering, documents and there's no need to print and wait for a reply. Instead interactions can be near instantaneous.
There are also savings to be made in terms of storage space. Instead of having to file everything away into a physical location, the scanned solution provides one digital document that can be accessed and searched for easily. This frees up physical space and the need for secure physical locations for sensitive material.
The digitizing of documents can also help to drive up productivity, as well as efficiency. With information accessible at any time and through multiple devices, a more flexible approach to work is possible. Instead of having to go to the office to find the required information, the scanned documents are available anywhere.
If you are considering digitizing your papers, Fujitsu's advice is that your business scanner should provide the following functions:
Optical Character Recognition (OCR)
Scan to PDF
Scan to Application
Scan to Folder
Connectivity
Simple Use
Advanced Technologies
Profiles
Automatic Document Feeder (ADF)
Duplex
Colour and DPI
Don't forget to follow us on Twitter, like us on Facebook, or connect with us on LinkedIn!