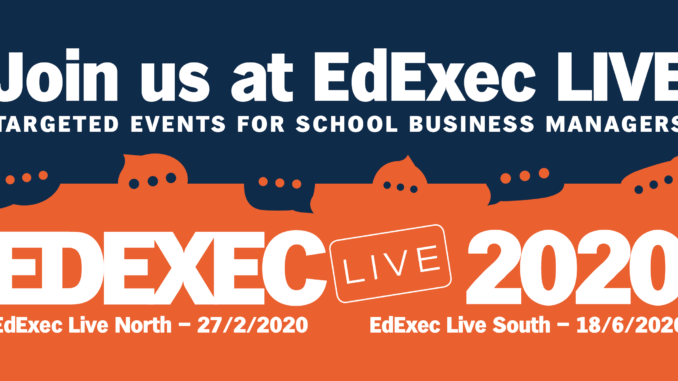 Our live event comes to Manchester at the Radisson Blu hotel on 27 February and London's 30 Euston Square on 18 June – and did you know you can bring a friend or colleague along to enjoy the day?
Some people are, understandably, wary of attending an event alone – even one as open and friendly as ours, but there's no reason to feel that way. Even if the thought of meeting lots of your peers from across the country doesn't comfort you, you can bring along someone you already know!
EdExec LIVE isn't just for SBMs – it's also suitable for finance directors and bursars, headteachers and beyond. It's for all senior leadership within schools so, if you're coming along on the day and worried about not knowing anybody there, why not bring a colleague, or a friend who works in the education sector? Simply ask that person to e-mail us at [email protected] to flag their interest in coming along, free of charge!
Here's what to expect on the day:
A focus on personal development With increased expectations weighing on those involved in business management the key to lightening this burden is professional development. EdExec LIVE is an opportunity to build on your knowledge and your skills, ensuring you play a strategic role in determining the direction your school is taking.
Professional resources We're acutely aware that schools are now required to do more for less, so EdExec LIVE delivers tangible ideas and examples of how you can make and save money, whilst improving your school environment and performance.
Tailored content It's all about you! EdExec LIVE is a unique event in that we tailor your day to your individual needs by allowing you to select the sessions most relevant to you. Our timetable is designed to optimise time and maximise learning so you have a worthwhile day out of school – check out sessions here!
Meet like-minded individuals EdExec LIVE brings together school business managers and leaders from across the UK – after all there's no better support than peer support! Meet local and national colleagues, from schools and academies, to share best practice and form new relationships with like-minded professionals.
Visit www.edexec.co.uk/edexec-live-2020 for more information!
Don't forget to follow us on Twitter, like us on Facebook, or connect with us on LinkedIn!