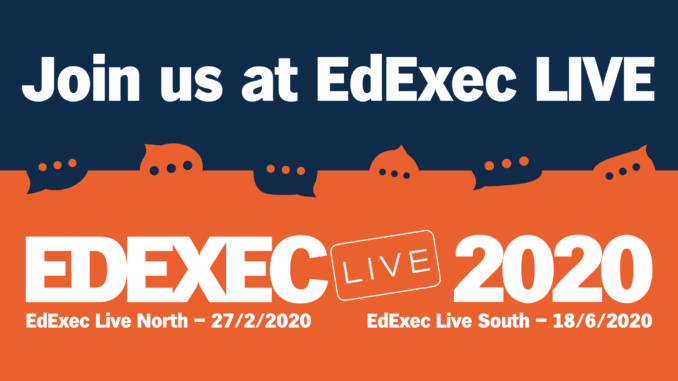 EdExec LIVE North is just around the corner! On 27 February, our school business management event will take place at the Radisson Blu Hotel, Manchester Airport – and we would love for you to join us!
If you're not familiar with EdExec LIVE, in short, it's an event that brings together a host of sector-experts to deliver sessions addressing the big issues impacting you and your school. Visit our seminars page to view this year's sessions!
A number of our speakers are based in – or work with – schools in your area and will be attuned with the challenges and changes that you and your area school face. It's an opportunity to learn, network and drive personal and professional improvement. This year's seminars get right to the heart of the issues of you and your school – here's what we've got lined up for you next month:
Training your governors (exclusive to EdExec LIVE North)
Emma Gray, finance director, Marling School
There can be an information gulf between the SBM and the governors, so is the onus on the SBM to ensure this is not the case?
Confidence and clarity
Laura Williams, consultant, LJ Consultancy
Do you know when to say yes – or no – in your role? It's time to stop going unheard and unrecognised. This seminar centres on confidence; knowing who you are, what you do and what you bring to the table.
Benchmarking: not a solution, but a tool
Paul Leigh, CFO, Focus-Trust
In the drive to continuously get more from the limited resources schools have, benchmarking can play a key part. It is not a solution in its own right, but rather a tool that can lead to insight, changed practices and improved efficiency.
Strategic IT planning for whole-school improvement
Royden Gothelf, director, RightICT
Procuring the right digital technology for your school becomes a great deal easier once you link that IT to your school's ongoing improvement plan. Ask yourself, 'What will work in, and for, my school?
Leverage and price negotiation
Naomi Clews, consultant, Millennial Procurement
Given all the political unrest, the expectation is that prices will keep on rising; this seminar will explain different costing models, what impacts on the price of goods and services, how to limit price increases and negotiation tips and tactics.
Ending contracts – the do's and don't's
Cate Hart, SBM consultant
Ending a contract tends to mean having to have a difficult conversation with somebody – but there are ways to make it easier.
Seizing opportunities
Richard Harrison, director of community engagement, Regent High School
Taking advantage of the opportunities around you can make all the difference in how you feel about your professional position in life.
Developing emotionally intelligent leadership
Eithne Graham, trainee and development officer, University of Dundee
Developing and improving your EQ may help you to effectively overcome challenges – and developing your own EQ can greatly influence how successfully you lead others.
Community engagement is king
Phil Burton, SBM, Hallbrook Primary School
How involved in the community is your school? This seminar will dive into the reasons why engaging with the broader community is so important – both for strengthening relationships and for securing additional revenue streams for your school.
Coaching skills for line managers
Andrew Blench, consultant, School Business Partner
Having line managers who can use coaching skills in their daily roles is a key component of having a coaching culture and successful schools need these too.
We're currently offering free and discounted tickets to those to register their interest in attending EdExec LIVE North with us – simply e-mail

[email protected]

and let us know that you'd like to come along!
Don't forget to follow us on Twitter, like us on Facebook, or connect with us on LinkedIn!