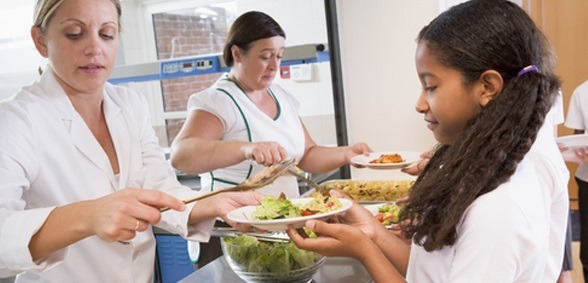 As reported by The Guardian, Hammersmith and Fulham council is rolling out free breakfasts and lunches for primary school pupils
In an attempt to combat the growing food poverty crisis in some parts of the UK, a free breakfast and lunch scheme for pupils has been launched.
The aim is to allow pupils breakfast and lunch regardless of family.
Hammersmith and Fulham council has already rolled out the scheme across west London, in response to the national free school meal system 'not working'.
While the number of pupils eligible for free school meals has grown, take-up is, for the most part, falling due to the stigma of being singled out.
Officials also say that the threshold for families to quality is too high, with many living in poverty not deemed poor enough.
As a result, parts of London are making sure all pupils have the same access to free meals. They are currently available to all pupils in reception and years one and two, with three councils – Islington, Southwark and Newham – providing free lunches to all primary pupils.
As of September, free breakfasts will be available for all primary pupils in Hammersmith and Fulham, and from January, the council will begin supplying free lunches in two secondary schools – a first in England and Wales.
Around 10,700 children are expected to benefit from this pilot, funded through money paid to the council by property developers, as part of their agreed conditions for planning permission.
Alison Garnham, the chief executive of Child Poverty Action Group, said: "Poverty and hunger exclude children from some learning and social opportunities and leave them exposed to stigma and shame.
"This pilot recognises the scale of the problem and strives to address it head on."
Sally Brooks, head teacher at Fulham college boys' school, said its impact on students would be immeasurable. "Providing the boys with a nutritious meal will not only allow them to compete in an academic environment, but will also give them the nutrition needed to go above and beyond what is required of them at school and actively participate in extra-curricular activities."
Don't forget to follow us on Twitter, like us on Facebook, or connect with us on LinkedIn!