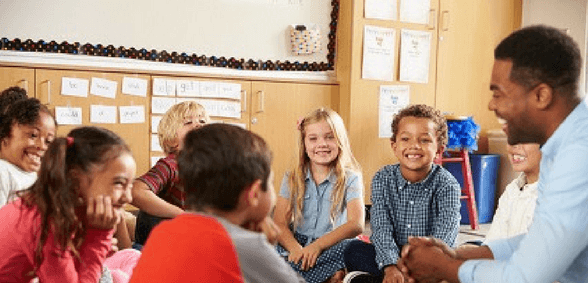 New personal, social, health and economic education (PSHE) programme to support primary school planning for 'statutory' curriculum
With the government shaping schools' work on relationships and sex education (RSE) from September 2019 and consulting on moves towards statutory personal, social, health and economic education (PSHE), a new programme has been launched to help primary school teachers deliver PSHE lessons for 8-11 year olds.
1decision, part of the Headway family of learning resources, already delivers its PSHE programme for 5-8 year olds to over 150 primary schools across 31 UK counties – and has now released its offer for the Key Stage 2 curriculum. Within the bank of resources, schools can engage children in a range of topical issues including online safety, differences within religion, same sex marriage, appropriate touch and peer pressure. The interactive on-screen programme combines a series of documentaries and videos on key topics with alternative endings, with supporting activities and assessments throughout. "PSHE often touches on very sensitive subjects, but our use of animated characters makes these topics less personal for the children," said Hayley Sherwood, creator of 1decision. "Students watch the characters and live action films with child actors in simulated real-life situations, decide what to do next, and subsequently work through the activities and apply their new knowledge to situations they may face now and in the future."
A recent National Association of Headteachers (NAHT) survey showed overwhelming support for statutory PSHE from 2019-20, with 90% of over 900 professionals saying that PSHE education, including RSE, should have the same status as other school subjects. "Compulsory PSHE is definitely coming – and age-appropriate education for all is definitely needed," Hayley said. "There is something happening every week that highlights the importance of PSHE. Only last week the National Crime Agency warned how live streaming is increasingly being used to groom, blackmail and abuse victims. It's important that teachers, parents and children themselves are aware of the potential dangers they face and we all need to be talking to children about healthy relationships and staying safe online. However, this must sit in a wider PSHE framework that supports children's mental and physical health, cultural understanding, safety and ability to thrive in life and at work."
1decision is the first primary platform to be kitemarked by the PSHE Association Quality Assurance Programme and fulfils the requirement of the new Ofsted inspection framework. One school using the programme is Cross Farm Infant School, an 'Outstanding' school in Camberley, Surrey. "1decision is supportive of every child, and makes a difference to all children," said Headteacher Jules Langston. "Pupils have really thrived on the digital content, giving them a truly 360-degree experience. We also have evidence from parents that many children have continued to think about lessons at home. As a school, it also puts us in a really strong position to embed PSHE as a statutory part of the curriculum, should that happen."
Another is St. Nicholas Church of England Primary School and Nursery, an 'Outstanding' school in Stevenage. "In our school we realise the importance of developing the whole child and ensuring that they have education for life as well as for exams," explained Headteacher Sarah Stevens. "PSHE is a crucial component of that. However, prior to engaging the 1decision programme, we were working with dated PSHE field materials which told children what to think rather than providing the space for them to make their own decisions. The resources give us an opportunity to open up pupils to dangerous situations in a virtual world, enabling them to make choices in a safe environment and being able to make mistakes on the way. We are thrilled with the contribution of 1decision."
1decision is part of Headway, a social enterprise established to provide children and teachers with the most up-to-date, sophisticated, high quality and engaging learning materials possible – increasing their accessibility to all schools. Its kitemarked modules include coverage of the following areas which fulfil the PSHE subject expectations: personal safety; health and wellbeing; statutory SRE; British values; the working world; feelings and emotions; online safety; healthy relationships; and media influences.
Don't forget to follow us on Twitter, like us on Facebook, or connect with us on LinkedIn!