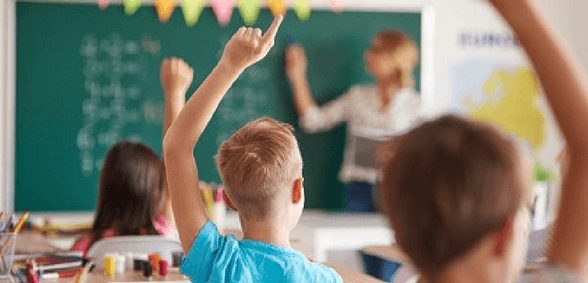 As reported by The Guardian, sex and relationships education is set to change for the first time since 2000
Sex and health education in England is set to receive an overhaul, as the Department for Education (DfE) unveils new plans to cover topics such as cyber safety, relationships, menstruation, trans people and FGM.
Primary pupils will soon receive relationship education, which will turn into relationships and sex education at secondary school and health education for pupils of all ages.
These are the first changes to relationship and sex education since the year 2000. The government has realised – in a move that has been long-awaited by many – that the current guidance was outdated.
"Almost twenty years on from the last time guidance on sex education was updated, there is a lot to catch up on," said the education secretary, Damian Hinds.
"Although sex education is only mandatory to teach at secondary, it must be grounded in a firm understanding and valuing of positive relationships, and respect for others, from primary age."
"In turn positive relationships are connected with good mental health, which itself is linked with physical wellbeing. So it is appropriate to make health education universal alongside relationships and sex education."
According to the DfE, students aged 11 and older should also be taught about "honour-based" abuse, as well as grooming, forced marriage and domestic abuse.
Former education secretary, Justine Greening, first proposed the reforms for secondary schools in 2017, but she had said parents will retain the right to withdraw their children from sex education.
Campaign groups welcomed sex education being made compulsory, but are concerned that these classes could be diluted to appease conservative interest groups.
Rachel Krys, the co-director of the End Violence Against Women coalition, urged the government to make clear that the new guidance will include topics like sexuality, gender stereotypes and consent – and that they will be compulsory.
"Reports of sexual violence and harassment in schools are increasing, but the DfE's previous plans included worrying references to 'virtues', and suggested children be taught about resisting or managing peer pressure," she said.
"That is a message which can easily be interpreted as teaching girls that it is their sole responsibility to keep themselves safe, ignoring the realities of harassment and abuse."
She added: "Teaching young people about the different forms of abuse of women and girls, and how they are connected to women's inequality and stereotypical roles, is essential if children are really to learn how to have safe, healthy and respectful relationships."
Don't forget to follow us on Twitter, like us on Facebook, or connect with us on LinkedIn!