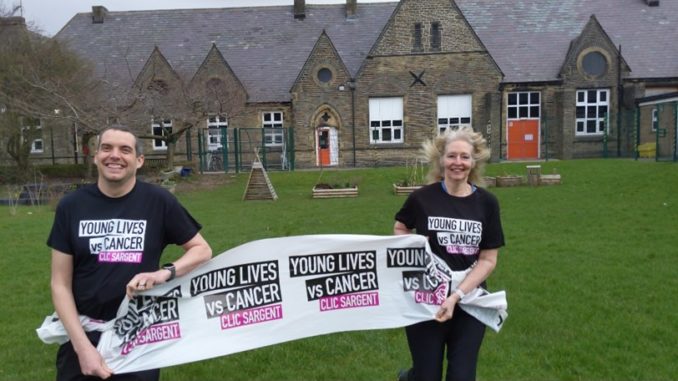 Andrew Chadwick and Liz Davison tackle half marathon for CLIC Sargent
Two local headteachers have decided to temporarily swap their rulers in favour of their running shoes to take part in a half marathon at the end of July in a bid to raise much needed funds for CLIC Sargent, a charity supporting young people battling cancer.
Andrew Chadwick and Liz Davison, who are based at Bradford's Wilsden and Thornton Primary Schools respectively, which form part of Focus-Trust, decided to take on the formidable challenge after hearing from a former colleague about the help and support her family had received from the charity.
The move also follows a similar successful initiative for CLIC Sargent late last year, in which Wilsden staff asked families to donate gifts to children who were forced to spend Christmas in hospital due to illness, instead of buying presents for teachers.
Thanks to the encouragement and support of colleagues and their local communities, both Liz and Andrew are progressing well with their training, having already raised an incredible £1,155 in support of the cause.
While both headteachers claim they will be 'more than happy' just to get to the finish line, both say they are 'secretly hoping' to complete the 13.1 miles in just over 3 hours.
The duo are set to complete the half-marathon along a canal route between Shipley and Leeds.
Commenting on his decision to take on the challenge, Andrew said: "This year I turned 40, and I had been looking to set myself a challenge; well, this is it!
"CLIC Sargent is based at the Children's Hospital in Leeds, and so it directly supports our local communities. The work it does in supporting families emotionally, physically and financially as they experience the most devastating news imaginable is incredible and we just wanted to do something small to show how much we value their commitment."
Liz added: "I haven't run anywhere since doing a fast sprint for the last bus as a teenager, so this is definitely going to be a challenge!
"I can't think of a more deserving charity to support than one which helps young people and their families navigate the devastating news of a cancer diagnosis. Please do consider donating and supporting the wonderful work they do."
To support Liz and Andrew, visit https://www.justgiving.com/team/CLIConUs.
Wilsden Primary School operates as part of Focus Trust – a charitable primary schools trust which is based in the North West of England and West Yorkshire with a vision of providing great schools at the heart of communities where children thrive, achieve and succeed.