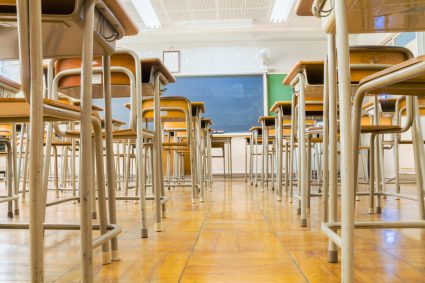 CREDIT: This story was first seen in TES
Almost one in five teachers know of foreign-born colleagues who have suffered verbal abuse at school because of their nationality since last year's Brexit vote, a poll has found.
The finding comes in a ComRes survey of 800 British teachers, commissioned by the NASUWT union, which showed 62% voted to remain in the EU, TES reports.
The majority (60%) who took part in the poll said they were worried about the impact of Brexit on investment in schools, while 43% were concerned about its effect on teachers' job security.
Chris Keates, general secretary of NASUWT, said: "With one in five teachers reporting witnessing or experiencing foreign-born colleagues being subjected to verbal abuse because of their nationality, it is also abundantly clear that urgent action is needed to demonstrate that such abuse is unacceptable and will not be tolerated."
The survey found:
18% have heard about or experienced foreign-born colleagues being verbally abused about their nationality on school premises since the Brexit vote;
29% are worried about the impact of Brexit upon their jobs;
29% are worried about the impact of Brexit upon workload;
49% believe schools have an important role in preparing students for Brexit, but 54 per cent said their school is not supported in helping to prepare students for Brexit.
Ms Keates said: "This research demonstrates the genuine concern amongst teachers about what Brexit will mean for their jobs, working conditions and rights at work.
"The survey suggests that the recruitment and retention crisis which is engulfing schools will not be addressed if Brexit results in reduced levels of investment in education.
"The research confirms that schools and teachers need immediate support in order to help educate today's children and young people for a future where the UK is no longer a member of the European Union."
Tom Jones, head of policy at Thompsons Solicitors, told a meeting at the union's annual conference that "there's a huge threat coming your way through the Brexit changes".
He listed agency workers, part time workers, pregnant women and those facing redundancy as groups that could be affected by a potential loss of employment rights when Britain leave the EU.
"[The government] wants to control you, and Brexit gives them the perfect opportunity to do it," he added.
In January, Theresa May pledged to "ensure that workers' rights are fully protected and maintained" after Brexit.
Don't forget to follow us on Twitter, like us on Facebook, or connect with us on LinkedIn!