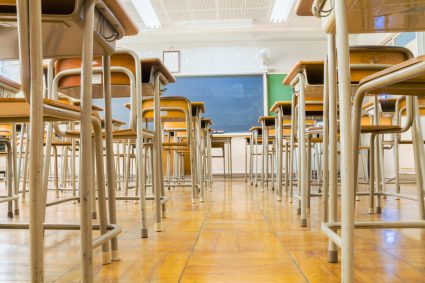 CREDIT: This story was first seen in Beta Express & Star
Wednesfield High Academy became the second school run by the trust to be rated 'Inadequate' by Ofsted when it was inspected and put in special measures in February, Beta Express & Star reports.
The specialist engineering academy was given the rating across five inspected areas including leadership, teaching and outcomes.
Around 20 jobs – from teaching and regular staff provision – are believed to be under threat, with workers told about the proposed losses on Thursday morning.
According to the university, the cuts are part of 'staff restructuring' to address an 'ongoing financial deficit at the academy'. The total number of job cuts will not be revealed until a consultation on the proposals has ended.
The trust will be considering voluntary applications to leave the school but has not ruled out offering redundancy packages to staff.
The academy, which has 884 pupils on its roll, was taken over under the umbrella of the university-run Education Central Multi-Academy Trust in January 2015.
James Allen, head of corporate communications for the university, said on behalf of the academy and the Trust: "A consultation is under way with staff and trade unions at Wednesfield High Academy regarding staff restructuring proposals.
"This involves reducing the number of overall staff at the academy. Initially this will be through a voluntary process but compulsory redundancies cannot be ruled out.
"The restructure is in response to an ongoing financial deficit at the academy. A five-year plan is in place to address the deficit and achieve a more sustainable balanced budget.
"All other areas of expenditure have been reviewed and savings achieved wherever possible to mitigate against further staffing reductions."
Councillor Phil Bateman, who represents Wednesfield North said: "I am sure that the school – its whole staff and its pupils ­– will be very much saddened by these revelations.
"I know that the initial shock announcement by Ofsted, that Wednesfield High Specialist Engineering Academy was 'Inadequate' caused much concern right across Wednesfield, including amongst parents here in Wednesfield North.
"This new announcement will also create its own concerns, and I would imagine that the consultation with the academy staff will not be without its own sadness.
"Hopefully the requirements of matching financial resources with teaching, will be undertaken by the head and governors with sensitivity, and without the requirement for compulsory redundancy.
"My wish is for the school to quickly get back to developing education excellence, so that Wednesfield High pupils, can achieve the highest educational chance a civilised society can provide.
"You only get one chance at secondary education, and the focus therefore has to be on the pupils, and their path to achievement," he added.
Don't forget to follow us on Twitter, like us on Facebook, or connect with us on LinkedIn!