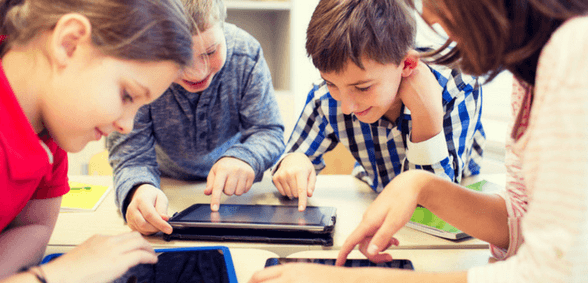 In the second of a two-part article, Tom Crump looks at the benefits of embracing technology in the classroom – including reduced administration and the development of ongoing skills
It goes without saying that any reduction in time spent on administration is beneficial for school staff and pupils.
With greater availability of technology comes a reduction in the requirement for teachers to take home stacks of books to mark each evening. For some tasks, apps and programmes can automatically monitor student progress and send updates – without the need for manual review by a teacher. For more complex projects, work can easily be reviewed, annotated and feedback automatically sent to a student, all from an easy-to-transport device.
Technology can also help greatly with the safeguarding of pupils, whether it involves using an app to take the register – which, for example, makes the process of a potential fire drill much easier – or ensuring widespread awareness of someone's food allergies. Other factors in relation to a pupil's wellbeing can be documented and continuously monitored and checked over time, without teachers having to go through all their paperwork to cross-check.
What's more, with greater use of technology in classrooms, teachers can avoid the time spent in front of photocopiers and printers getting worksheets ready for class. This all frees-up time for teachers to dedicate to pupils' learning – allowing them to provide additional, one-on-one support, or develop more innovative and creative learning experiences.
Ongoing skills
While there may be some naysayers, it's worth reiterating that introducing technology into the classroom doesn't just enable pupils to be skilled on using said devices; plenty of transferable skills and lifelong learning come with this approach and it is essential that we prepare students with these skills early on. Learning through technology leads to individuals who are able to be independent, creative, inquisitive and able to present back and voice their ideas.
Schools need to allow students to learn in a way that reflects the modern world of work. Technology is the solution. Teaching students with technology is a much more effective way to ensure young people enter the world of work with the right skills, ready for the challenges they will face.
Schools that already embrace technology in classrooms have attested to a transformative impact on students. It's hard to see why this approach shouldn't be rolled out in more schools.
Meeting the challenges cost-effectively
If you want to start to make better use of technology, connectivity must be fast and reliable to ensure student and teacher buy-in. If the network is slow, and things are not working properly, students and teachers will not want to use the devices so it's vital to make the sure the wider infrastructure is there.
While IT budgets can be a concern, as technology advances at pace, there are a host of cost-effective solutions to help introduce devices – and the framework needed to support them – into schools. These include subscription and buy-back options that allow schools to trade-in their old tech and pay for new devices on a monthly basis, avoiding a one-off payment and providing ongoing support if any issues arise. What's more, these solutions allow schools to regularly trade-in their devices for newer models, ensuring that students are always keeping pace with the latest developments.
Schools are also offering parents the opportunity to pay a nominal fee (£10 a month) over a period of years to buy their child's device when they leave. This makes the devices sustainable and allows schools to reinvest the funds into infrastructure, other technologies and training.
Many schools are also using their pupil premium to fund the deployment of new technology into their classrooms. The premium is designed to facilitate extra support for pupils from low income or disadvantaged backgrounds; what better way to ensure the premium is used effectively to support as many pupils as possible than to give these students access to technology – something that's proven to raise attainment across the board?

Tom Crump is education programme manager at Apple Solution Expert for Education, GBM and Sync.
Don't forget to follow us on 
Twitter
, like us on 
Facebook
, or connect with us on 
LinkedIn!