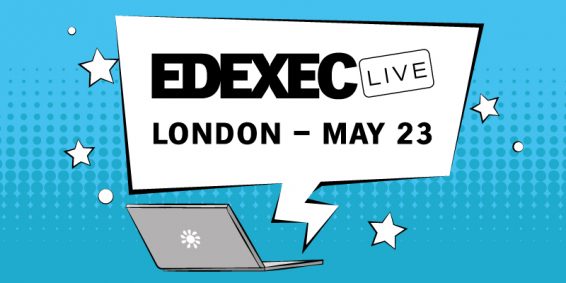 You may already be aware but…on May 23, EdExec LIVE will be taking over 30 Euston Square, London; bringing together a host of experts to deliver seminars and workshops that provide take-home solutions – tailored to school business managers – to the sector's most pressing issues
As the date edges closer, we here at EdExec HQ are doing the final checks – ensuring that we deliver a top-notch SBM conference! We want you to be a part of the conversation – and there is still time to book your place – but time is ticking!
Book your ticket – without delay!
There are many reasons to attend, but here are three you do not want to miss:
All-new sessions, all-star speakers: Sessions are interactive, engaging and generally informative – we want you to know that you have gained something at the end of the day. The following is a taster of what you can expect:
Sue Birchall, financial controller at the Leigh Academy Trust, will present Playing the long-game: a solution based session on strategic budget planning. This practical seminar looks at innovative ways to develop strategies for long-term, whole school budget planning. An interactive session, it offers advice on how you can implement a strategy for the future – whether you gained or lost through the national funding formula. Use the session to share ideas, suggestions and plans for how to manage long term budget issues with a view to creating a solution based approach

Justin Smith, MD of Chameleon Training and Consultancy gives advice on how to Have your school's voice heard. Justin explores how you can harness marketing to boost your school's reputation in the community, attract and recruit new students and teachers, and, importantly how you can maximise your school's marketing budget

In Spotlight on external relations, Richard Harrison, director of community engagement at Regent High School, discusses his experiences forging lasting relationships with local organisations. In this session, Richard considers the importance of developing such relationships, the central role they can play in delivering a broad education and how you can develop such relationships with those in your area

Join Neil Clephan, NLE at Red Kite School Alliance for Premium access. In this interactive session, Neil – a recent former head at Roundhay School and now NLE at Red Kite Teaching School Alliance – outlines the rationale behind government policy, explores how heads and SBMs can use the funding to demonstrate value for money and shows how published Pupil Premium Plans have made the greatest impact on Ofsted *Note: This is a practical workshop; delegates are advised – for maximum benefit – to bring, or have access, to their current PP plan
And these are but a few! Why not peruse the rest of EdExec LIVE's stellar line-up?
Optimising time to maximise learning: It's not easy to take a day away from school – who knows what might (or might not!) happen in your absence. We realise this – that's why we cut the faff. EdExec LIVE is a full day of seminars and workshops – punctuated with a hot lunch. Value for money is important. (Optimised time + maximised learning = a day well spent)
An open conversation, not a lecture: We know that you know the situation your school's in. Our prerogative is to provide as much useful information, pragmatic advice and innovative solutions as possible, so you can select what's right for you, take it back to your school and adapt/apply as necessary! For us it's about making it count and providing you with the support you need.
Networking: lasting connections: As an SBM you may often find yourself between a rock and a hard place – squeezed just like your budget. Having the right network of support is important, being able to share your experience(s), challenges and successes and learn from those of others is crucial to growing professionally and, importantly, personally. This is the environment we strive for at EdExec LIVE: the content sparks the conversations that you continue, at the event and beyond.
School business management has been our obsession now for just about 15 years now and this experience we bring to EdExec LIVE. We'd love for you to join us on May 23 at 30 Euston Square London.
But, before you book your ticket, explore what EdExec LIVE has to offer, the speakers, the seminars, the suppliers, the workshops: check out what's on!
If you have any questions: please free to contact Marie ([email protected]) – she's only too happy to chat!
Until next time…