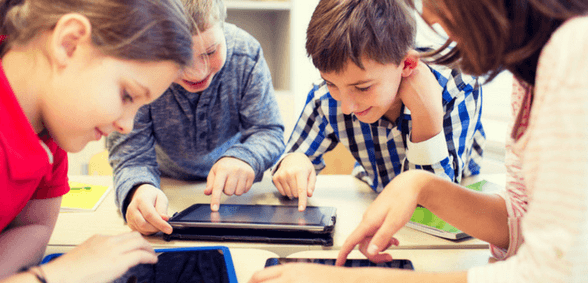 Technology is applied in the classroom to enhance teaching and learning. In the past we've examined how it can support communication and engage students. For the September issue of Education Executive, guest writer Jilian Wood investigated how artificial intelligence is helping students with their writing – it looks like the future could be punctuation-perfect!
How we deliver education is constantly evolving as we seek new ways to improve teaching and learning. Since the advent of the internet, classroom teaching and independent learning has changed dramatically and new opportunities are continuously arising as technology reaches new heights.
This has been particularly noticeable when it comes to teaching writing skills; where once, learners had to rely on clunky dictionaries and thesauruses to perfect their writing, today they've access to a range of software, resources and editing tools, capable of polishing their written work and providing hints and tips for improvement.
The rise of AI and technology-guided learning
If there has been one defining tech-trend for 2018, it's been the seemingly unstoppable rise of artificial intelligence (AI). While AI alone is, perhaps, not yet capable of constructing truly artful and involving essays or coursework, it is being used in highly-effective ways to help students make great steps forward with their writing. From relatively simply, yet enormously beneficial and user-friendly, editing programs such as Grammarly and Hemingway – designed to spot grammatical mistakes, spelling errors and awkward phrasing – to more sophisticated software, the ascent of AI, when it comes to writing, seems to show no signs of slowing.
New approaches, new algorithms
At the University of Michigan, USA, AI is being used to advance the way technology is able to help students with their writing submissions. Two professors have created a writing-to-learn tool known as M-Write, which has been programmed to use automated text analysis (ATA) to allow students to identify weaknesses in their written work, as well as to show them where their strengths lie.
The developments which lie on the horizon are impressive, to say the least
The algorithms which form the basis of M-Write use a wide range of text analysis methods – including topic and vocabulary-matching – as well as more basic spell-check and grammar correction tools. The idea is for M-Write to not only allow students to polish their essays, learn from their mistakes and develop key writing skills but also to allow educators to easily identify areas which students need additional help with.
Specialised tools for writing excellence
Automatic citation generators are relieving students of the headache of correctly citing their sources and referencing texts, tools like StoryToolz are giving students the chance to improve the 'readability' of their submissions and automated thesauruses of all stripes are giving writers the chance to expand their vocabulary and avoid unnecessary repetition. It seems as though, where academic writing is concerned, AI and online tools are blazing new trails which are only going to become more impressive and far-reaching with time.
Bright futures ahead
The developments which lie on the horizon are impressive, to say the least. With companies such as Amazon Education finding their feet and investing in AI technology for schools, we can be sure that the software currently available is only scratching the surface of AI potential.

About Jilian
Jilian Woods is a 
freelance writer
, guest blogger. In her articles, she raises the issues of the modern educational system, K-12/STEM education, and education technology. 
This article featured in the September issue of Education Executive. Subscribe now to keep up-to-date with the latest in school business management and leadership.
Don't forget to follow us on Twitter, like us on Facebook, or connect with us on LinkedIn!