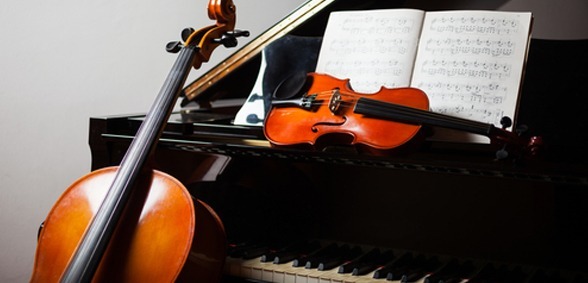 A £96m funding boost has been announced by school standards minister Nick Gibb to support talented music, drama and dance pupils kick-start their career in the arts
The government has announced an additional £96m – bringing the total level of support for arts programmes to £496m since 2016.
Music, art and design, drama and dance are included in the national curriculum and compulsory in all maintained schools from the age of five to 14 and play an important part in ensuring a broad and balanced curriculum.
According to the DfE almost half of pupils chose to take at least one arts GCSE last year through subjects such as music, dance, drama or art and design.
The boosted funding will provide students with access to a range of cultural opportunities, such as:
training at the world-famous Royal Ballet School in London;
film-making classes at the BFI Film Academy;
free opportunities to study art and design at their local college or university; and
visits to museums and galleries, using quality resources to support their classroom teaching.
Almost £90m of combined funding will go to the Music and Dance Scheme (MDS) and the Dance and Drama Awards (DaDa). These funds support the most talented pupils to attend prestigious arts institutions, such as the Royal Ballet School in London and Chetham's School of Music in Manchester.
Richard Russell, chief operating officer, Arts Council England said: "We welcome this announcement of additional funding from the Department for Education, giving more pupils the opportunity to engage in cultural activities in and out of school and supporting the Arts Council's ambition of ensuring high-quality cultural education exists for a broad and diverse range of young people.
"Projects such as National Youth Dance Company, National Art and Design Saturday Clubs, and Museums and Schools Programme create fantastic opportunities for children from a diverse range of backgrounds to participate in a range of different activities, and allow them to discover and develop their talents."
Also announced is over £8m to support a number of cultural education programmes – programmes designed to give young people an opportunity to try filmmaking with the British Film Institute, improve their skills with the National Youth Dance Company and explore different art materials at National Art and Design Saturday Clubs. This funding also gives pupils the chance to learn about the country's most famous historical sites with Historic England.
There is also a further boost for the 'In Harmony' projects in Liverpool, Lambeth, Newcastle-upon-Tyne, Nottingham, Leeds, Telford and Wrekin/Stoke-on-Trent. All will receive a share of £1m to help them to continue to provide music education for disadvantaged pupils in their area. These projects aim to inspire and transform the lives of children and families in deprived communities through the power and discipline of ensemble music making.
This funding is in addition to the £150m already announced for Music Education Hubs in 2018-20 which will help them to support pupils to explore music and give them the opportunity to excel, regardless of their background. There are 120 Music Education Hubs around the country which have already helped over 660,000 young people to play a musical instrument.
Paul Whiteman, general secretary of school leaders' union NAHT, commented: "It is good to see the government recognising the importance of arts education. The majority of this money will help the most talented access the specialised schools that can make all the difference to entering careers in music, dance and drama.
"However, it's vitally important that all pupils get to take part in music and the arts throughout their time in school, otherwise many will never discover their talents. All pupils deserve to benefit from the advantages studying creative arts subjects can give, not just the most talented few.
"Inadequate funding, combined with a high-stakes accountability regime, is actively narrowing the curriculum available to pupils in our schools. In a NAHT survey, 79% of secondary school leaders said that the EBacc had already had a negative impact on the breadth of the curriculum in their school. Entries for all non-EBacc subjects showed a decline in 2017 including drama, music and art.
"Educators know the value of the creative arts – every day they see first-hand the difference it can make to pupils, especially those who are disadvantaged. These subjects are demanding and challenge pupils in a wide range of ways. Arts learning also improves the vital skills pupils need for life and which employers consistently rate as the most valuable, such as confidence, teamwork and cultural awareness."
Don't forget to follow us on Twitter, like us on Facebook, or connect with us on LinkedIn!