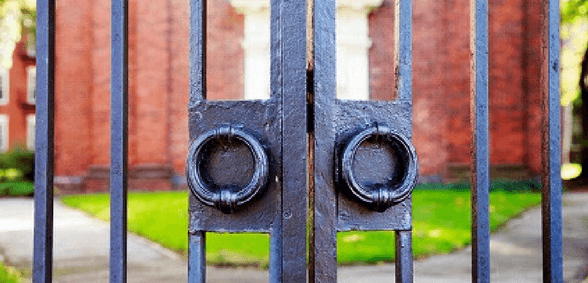 Worryingly high rates of exclusions have been reported for the 2016/17 academic year, with 45 schools excluding at least 20% of pupils
The Guardian has reported that 45 secondary schools in England excluded at least 20% of their pupils in the academic year 2016/17, something the government is now being urged to address.
The vast majority of these fixed-period exclusions (normally lasting up to three days) occurred in academies. Five others happened in schools run by local authorities, while six were at free schools.
The national average of pupils receiving a minimum of one suspension that year was 4.6%. Outwood academy Ormesby, however, excluded 41% of its pupils, amounting to 2,405 exclusions being handed out to 247 students.
Nine of the schools in question were part of the Outwood Grange multi-academy trust, with the Ormesby branch coming out on top for exclusion numbers.
A spokesperson for the trust defended its work, said that it had taken over "…some of the toughest schools in England," and consistently turned around their performance. They added that, in many cases, the schools it had taken over had previously been excluding high numbers of children informally, making the increase in the number of official exclusions seem misleadingly worse.
Angela Rayner, the shadow education secretary, said the fact that some schools were recording such high rates of suspension "should be a matter of huge concern to the government, and to the schools affected".
Earlier in the year, reports emerged which suggested that many schools may permanently exclude specific pupils just before exam season in order to ensure better overall results. The Department for Education launched a review into exclusions in March, but the report isn't due until the end of the year.
Further statistics show that secondary schools in Middlesborough handed out the highest number of fixed-term exclusions overall – 11.67 students in every 100. Yorkshire and Humber averaged 5.8 per 100, with inner London handing out 5.3 per 100.
Cathryn Kirby, Ofsted's regional director for the north East, Yorkshire and Humber, said before the exclusion report launched in March that, "Schools should only ever use exclusions as a last resort. If not properly applied, being removed from school can disrupt a child's education and affect their future life chances." This makes it all the more concerning that so many schools are seeing high rates of exclusions.
Kevin Courtney, joint general secretary of the National Education Union, confirmed that too many pupils are being excluded.
"Real-terms funding cuts have forced schools to make behavioural and specialist learning support assistants redundant, many of whom supported pupils at risk of exclusion, including those with special educational needs or disabilities (SEND)," he said. "Alongside this, schools have lost external support because of the funding cuts to local authority specialist support services.
"The reasons for a huge variance in rates of permanent and fixed term exclusions need to be examined carefully. However, it is clear that the competitive and fragmented system produced by the academy reforms encourages schools to compete for the pupils most likely to get high grades and increase exclusions of pupils who may be more challenging to teach."
A spokesperson for the Department for Education added:
"While we know that there has been an increase in exclusions there are still fewer than the peak ten years ago. We have launched an externally led review to look at how exclusions are used and why certain groups are disproportionally affected."
Don't forget to follow us on Twitter, like us on Facebook, or connect with us on LinkedIn!