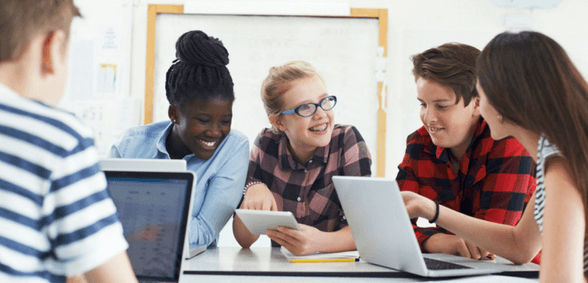 Video links between schools, an idea first adopted in Scotland, have been launched as part of a plan to support rural education in Wales and tackle the closure of remote schools, BBC reports
The E-sgol project is aimed at linking pupils in remote areas so that they can access a greater range of subjects, BBC reports.
The Welsh government's rural education action plan also includes a presumption against closing countryside schools.
Education secretary Kirsty Williams said technology could provide solutions for some rural school issues.
The scheme is based on the E-Sgoil initiative which was introduced by the Scottish government in the Outer Hebrides.
The first to try it were pupils at Ysgol Bro Pedr in Lampeter who linked up with children from Sgoil Lionacleit in Benbecula in the Outer Hebrides via video link.
Lessons for sixth formers with remote teachers are aimed at widening the choice of subjects.
Maths teacher Dylan Jones said: "It's definitely different because usually I would be in the class with the children. The more we use it, the more we'll get used to it.
"It gives pupils an opportunity to do subjects that maybe they won't be able to. Schools, maybe because of money, can't run some courses. So this allows pupils to do subjects they want to."
Ms Williams, who joined pupils, said that it would ensure that children had access to "the best learning experience" even in the most rural areas of the UK.
"If we ensure that pupils and schools in rural Wales have the right support to succeed, then we can ensure that our rural communities and economy will go from strength to strength," she added.
Her Scottish counterpart, John Swinnney, said it was "particularly pleasing" to see the innovative E-Sgoil model for digital learning was being adopted by the Welsh government.
The action plan also includes:
Small and rural school grant to encourage innovation and raise standards
Strengthening school organisation code in respect of a presumption against the closure of rural schools with changes to guidelines for local authorities to come into force by November
Additional funding to improve connectivity in rural schools
Regarding potential school closures, Ms Williams said: "We're sending a message to local authorities today that you have to explore properly, consult with communities, and look at every opportunity you have of keeping a school open.
"Closure should not be the first option but absolutely be the last."
Don't forget to follow us on Twitter, like us on Facebook, or connect with us on LinkedIn!