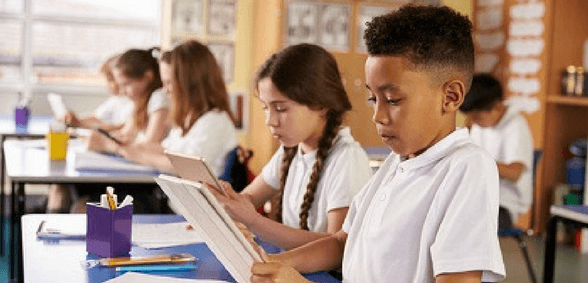 A report compiled by the National Literacy Trust shows the negative impact false news is having on children, together with worrying statistics on how it's affecting their school lives
It's a phrase that's thrown around all too often nowadays – having been coined and subsequently frequently by Donald Trump to describe any media which doesn't support him – but actual fake news is affecting children and young people in and outside of school.
A report by the National Literacy Trust – entitled Fake news and critical literacy – delves into the problem of false stories and their impact on children's confidence and well-being.
As children have increased access to media, so too do they have more exposure to fake news, and the report states that it's never been more important to ensure children have the literacy skills needed to succeed and thrive.
The National Literacy Trust asked over 2,000 eight to 16-year-olds to identify which stories from a group of six were real and which were fake. Only 2% got correct answers across the board.
False news is now driving a culture of fear and uncertainty among children, which extends to a lack of belief in their own skills and school work. Half of those surveyed said they were worried about not being able to spot fake news, and 60.9% of teaching staff believe fake news has a harmful effect on children's well-being by damaging their self-esteem as well as skewing their view of the world.
Only around a quarter of children actually trust online news stories, something which can have ramifications when it comes to research for school work. 98.8% of teachers believe they have the greatest responsibility for helping children develop the skills they need to combat the effects of fake news, but only 6.4% of children are likely to speak to their teachers about the issue.
On top of that, over half of teachers believe the curriculum doesn't equip children with the skills needed to identify fake news.
Nick Brook, deputy general secretary of school leaders' union NAHT, weighed in on the issue:
"It's so important that we prepare children for the real world, teaching them not just the knowledge, understanding and skills they need to pass exams, but also to navigate the challenges of the digital age. Yes, we need to teach grammar and spelling, but we also need to instil a thirst for knowledge, a love of reading and the critical literacy skills that enable young people to make informed decisions as to what to believe and what to ignore.
"The rigidity of the curriculum and testing regime work against this. High stakes accountability can force schools to focus on teaching only what will be tested, as that is what they are measured on. NAHT support the call for greater flexibility to enable schools to properly equip young people with skills appropriate for the future not the past.
"We'd also like to see protected curriculum space for non-exam subjects, like PSHE. Statutory PSHE would allow schools to teach children and young people about real life issues, including physical and mental well-being, online safety including fake news, healthy relationships, financial literacy, and preparation for the workplace."