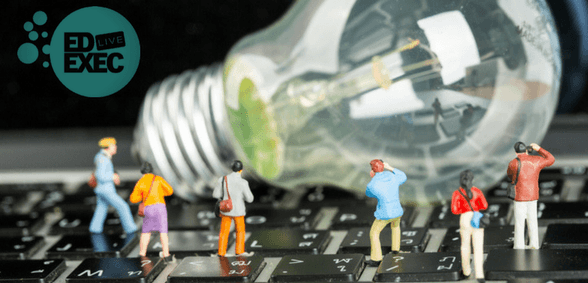 It's on! The education sector has set the challenge and we're seeking the solution! On June 21, our school business management and leadership conference – EdExec LIVE – will take place at 30 Euston Square, London.
Now's the time to BOOK YOUR PLACE!
An opportunity to assess what's happening in schools and academies – the changes and challenges – and explore how to achieve continuous school improvement in the face of continually diminishing resources.
We'll be addressing critical issues faced by the sector – view the full line up here.
But, in the name of efficiency, we've included some key areas:
Overcoming funding pressures: management, generation and optimisation
In times of tighter funding, schools are tasked with the impossible: do more with less. At EdExec LIVE, we tackle this head on – looking for practical and innovative solutions! Ensure that you are doing your budget justice – don't miss Overcoming financial pressures and budgetary uncertainty, Marrying your people with your budget: a curriculum-based model to financial efficiency or Pupils at a premium; making your spend count
The three 'R's: recruitment, retention, restructure
Your staff is your greatest asset and your greatest expenditure. Ensuring that you have the right people employed, in the right position and that staff structures are delivering is no mean feat. Make sure your human resources are hitting the three 'R's – don't miss: Effective staff recruitment and retention, Restructuring in schools; minimising the effects on your workforce, or Measuring and increasing staff wellbeing
Maximising your assets: IT, health and safety, catering
Jack of all trades! Yes, that's right, we're talking to you! At once – and in addition to all your other roles – you are expected to be facilities manager, IT guru, caterer extraordinaire and shoulder to cry on! Well, make sure you deliver your A-game – don't miss: Tackling underperformance in ICT, Health and safety (Premises), or Culinary delights: reassessing your school's catering provision
Questions of leadership and management
With growing school autonomy has come growing SBL responsibility! It's important to understand your value, to know that you can delegate and to be ready to take the helm. Sometimes it's just a matter of knowing how – don't miss: Demonstrating impact and gaining recognition as an SBM, Leadership: developing a 'coaching culture' in your school, or Blue Ocean strategy for MAT leadership
Enjoyed this seminar snapshot? View the full list of seminars and see who's speaking, on what! 
Get yourself ready for the next academic year – let your September resolutions start here! Book your place to EdExec LIVE.
Don't forget to follow us on Twitter, like us on Facebook, or connect with us on LinkedIn!