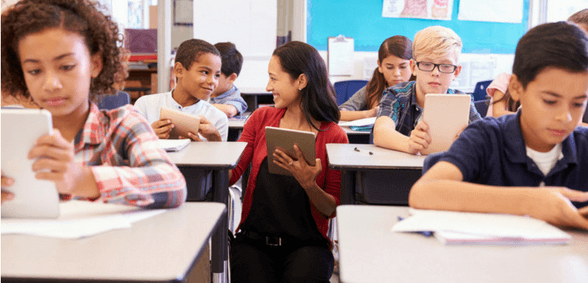 Securing new education technology for your school comes at an – often hefty – price. From refurbished equipment to monthly subscription services to reward programmes, initiatives exist to keep costs down while still seeing your school benefit from the latest gadgets. EdExec rounds up some ways to make your edtech spend go further
In the all-too-familiar world of rising costs and shrinking budgets, here are seven strategies to save money on your school's edtech procurement.
BYOD
By implementing a bring your own device (BYOD) policy in your school, you can save on the obvious cost of the devices – thereby freeing up that budget allocation to other areas. Another benefit of BYOD is that children will be familiar with how to use the technology – therefore improving participation levels.
However, there are considerations to take into account with this approach – including the need to establish clear policies, monitoring what children are accessing and preventing a divide between low- and high-income families.
Consider leasing
By leasing equipment – rather than purchasing it outright – schools can avoid a hefty lump-sum payment. Leasing also provides a way to keep on top of the latest technology for your school, through shorter-term commitments – often, schools have the option of buying the technology at the end of the agreed term, or returning it and moving onto the next innovation.
Leasing offers a viable option if you're looking to spread out payments; however, if you can afford the upfront cost, it's worth comparing the lump-sum spend against the cost of leasing over the length of the agreement, in order to get an idea of what makes more financial sense for your school.
Group together
Buying in bulk has the power the secure discounts – often, the more of something you want to buy, the lower the cost per unit. So, consider collaborating with other schools in your local area to maximise the saving potential of purchasing in bulk – the promise of a large, multi-school order is sure to attract the attention of suppliers, keen to work with you.
Use your network of fellow SBMs – via your contacts on social media or through your local SBM group – to find out if any nearby schools intend to procure any similar products or services to your school in the near future, and collaborate with them to achieve better deals. Collectively purchasing edtech – or any product or service for your school, for that matter – can achieve cost-savings not to be sniffed at.
Refurbished equipment
Another way to slash the cost of edtech is to buy reconditioned equipment – you may well end up with a better spec this way, too, as your budget can stretch further than when buying brand new.
If you have any reservations about buying reconditioned technology, make sure you know what you're getting. High-quality, refurbished items – from trusted suppliers – will have been fully tested and often come with after-sales support and warranty periods.
Reward schemes
Be on the lookout for any reward programmes or trade-in schemes offered by businesses. Much like loyalty cards, or trading in your existing 'phone for the next model when your contract is due for renewal, there are schemes in edtech purchasing that exist to reward loyal customers. When it comes to, what can often be, expensive pieces of kit, the promise of some money off in exchange for your repeat custom can make all the difference, so find out if your edtech supplier offers any incentives.
Second-hand savings
As the saying goes, 'One man's trash is another man's treasure'. Explore your options when it comes to swapping and loaning among schools, as something that one school may deem no longer suitable, another could snap up for a fraction of the original purchase price and put to great use in their school. Again, network and utilise your pool of contacts to see what surplus equipment might be out there.
Try before you buy
Due to the costly nature of edtech, being able to try before you buy can give you peace of mind that your money is going to be spent wisely.
Suppliers often offer the opportunity of coming into your school and talking you through the product using a demonstration. Many also provide an extended trial period – sometimes in return for some feedback. These trial periods give you the chance to test any hardware or software among staff and/or students, ensuring that it performs as you had hoped or expected.
Take advantage of trial periods and make sure the equipment is exactly what you want before committing to the purchase.

You should also check out the Department for Education's Deals for Schools to see if they can supply what you need. Their Schools Commercial Team reviews a wide range of deals, which are assessed for compliance with procurement regulations, ease of use, suitability and value for money. Visit
www.gov.uk/government/publications/deals-for-schools/deals-for-schools
to see their deals on ICT.
Don't forget to follow us on 
Twitter
, like us on 
Facebook
, or connect with us on 
LinkedIn!