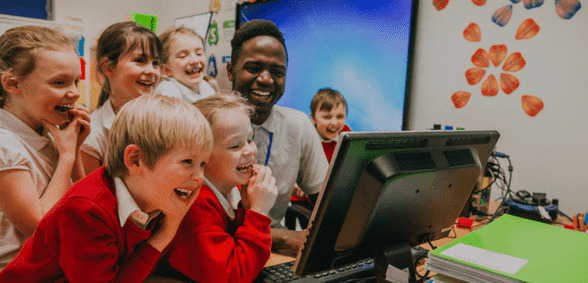 In what is believed to be a world first, primary school children across the UK are being given a unique opportunity to create characters for a soon-to-launch animated TV show that encourages literacy and writing
Night Zookeeper is well-known to school children aged seven and above and is an award-winning digital platform that encourages literacy and writing. When it was announced last year that Sky Kids had commissioned an animated series of Night Zookeeper, children were given the chance to participate directly in the show's development by creating characters, background designs and story plots.
Throughout the autumn term, a series of workshops took place at primary schools across the UK which gave children the chance to contribute their creative ideas to the show. Now, with the launch of the new website, children can take part in this innovative project regardless of their school – it's even possible for children to work with their parents at home to complete the Night Zookeeper art and creative writing challenges.
Night Zookeeper's creator, Josh Davidson, is excited about the possibilities this poses. "From day one, Night Zookeeper has focused on nurturing children's literacy and writing skills and its evolution – which will now see it become an animated TV show – takes this experience even further.
"To make this a truly open and collaborative opportunity, we wanted to enable children across the UK to take part – regardless of whether their school already uses Night Zookeeper. Importantly, this website will allow them to work outside of the classroom and to become part of an awesome animation team from their own homes."
Getting involved in the Night Zookeeper project is super-easy. All children need to do is ask their teacher or parent to register them at https://show.nightzookeeper.com/, create a username and then log in to start the challenges. By completing the art and creative writing challenges, children will be feeding directly into the creation of the show – and their ideas could even end up on screen!
"Hundreds of UK children at the schools where we have established relationships have already shared their creations with the Night Zookeeper team," Josh says, "but now it's time for that to become thousands of children sharing ideas and creations. This is the world's first co‑created animated show and that's something rather exciting. "Whether you're a parent looking for an exciting new activity for your child, or a teacher looking for new ways of inspiring your pupils, the new Night Zookeeper project is a fabulous and game-changing initiative that will transform the way children express their creativity."
Don't forget to follow us on Twitter, like us onFacebook, or connect with us onLinkedIn!