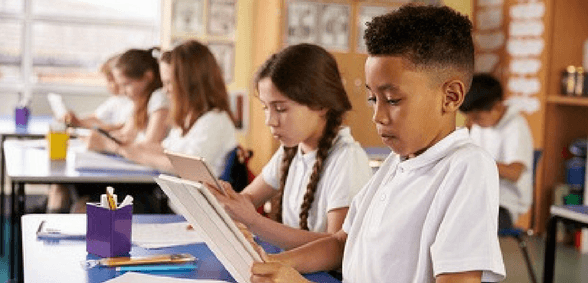 Gareth Shaw, ICT strategy leader at Ballyclare High School, recently sat on the judging panel of the Edtech 50 Schools initiative. He tells us more about the awards
"Knowledge is power. Information is liberating. Education is the premise of progress, in every society, in every family." It's difficult to argue with this famous quote from Kofi Annan but, in 2019, it's clear that – if we are to maximise the impact of education – then technology has a huge role to play. If you're looking for evidence, look no further than the results of the recent Edtech 50 Schools initiative in the UK.
These awards are supported by Intel, Jisc and NetSupport and run in partnership with the Chartered College of Teaching, the Independent Schools Council and TES. The ambition is to shine a light on this work in order to drive digital transformation and innovation across the entire school sector.
The Edtech 50 Schools is making the sensible case that education technology, if used well and coherently, can be of real benefit to education, pupils and teachers. The winners of The Edtech 50 Schools were recently announced and the results showcased some of the brilliant work going on in many of the 30,000 schools across the UK; entries represented every corner of the nation, and schools of all sizes and budgets.
The list of 50 institutions highlights digital flagship schools which demonstrate a focused sense of what is useful to them in terms of technology – whether this be in supporting teaching, cutting teacher workload, collaboration across staff teams, consolidating knowledge, enhancing creativity or broadening experiences across the curriculum. Sharing these, teacher-led, strategies and techniques can help to inspire and inform teachers and leaders in other schools and empower them to develop digital strategies of their own.
A snap shot of the winners
Alsager School, in Cheshire, chose to highlight a community art and technology project which its students are working on – Sway Life Stories. This involves students working with people with dementia, and their families, friends and carers in the local community, to create personalised 'life stories' using Microsoft Sway. The project is linked to the town's bid to become a dementia-friendly town. The judges loved the idea of making life story books and saw the potential for introducing the concept into other schools. One judge said, "What a fantastic way to improve learners' digital literacy whilst also engaging with the community."
Olive Tree Primary School, in Bolton, recorded voice feedback; this has significantly improved students' understanding of teachers' feedback and their ability to progress more quickly compared to traditional, handwritten marking. Teacher workload, too, has been significantly reduced by using digitised voice feedback – a reduction of around 4.5 hours per week.
Hove Park School, in Brighton and Hove, introduced 1:1 iPads in 2013 with an emphasis on digital fluency across its work. As a senior leader says, "We believe we have a duty to provide our students with an education for the 21st century where effective and innovative use of technology is important to the demands of the modern world." It is important for the school that much of this work is also led by student digital leaders – this includes hosting many international visitors at the school and accessing a range of learning activities off-site, then sharing their experiences with students back in school.
Deeper learning
The quality of the, approximately, 200 entries was simply outstanding. The diversity in these entries was startling in the different hardware and software solutions each school was employing but, paradoxically, all the entries were – in one sense – similar in that the technology was there as a vehicle to take each learner into deeper learning than would otherwise have been impossible without its use.

A full list of The Edtech 50 Schools winners is available
here
.
Don't forget to follow us on 
Twitter
, like us on 
Facebook
, or connect with us on 
LinkedIn!