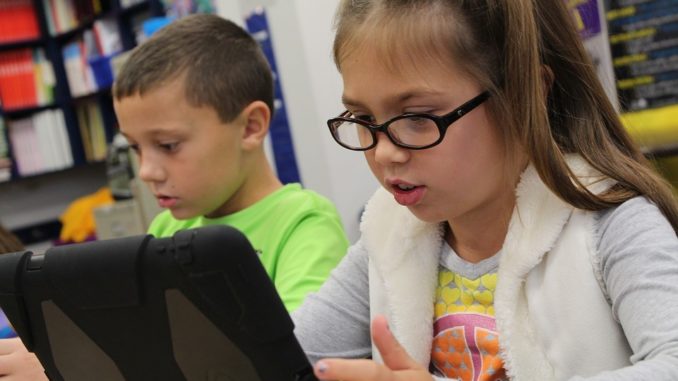 As reported by The Sunday Times, The Department of Education has told parents at a Co Meath secondary school who expressed concern about its iPad-only policy for the junior cycle that screen time is an "obsolete concept"
Children's screen time, the number of hours they spend per day on devices such as smartphones, tablets and TV, was the subject of guidelines issued by the World Health Organisation in April.
However, Derek Newcombe, private secretary to education minister Joe McHugh, has told parents of students at Ratoath College that "it is more important to think about what your child is doing online and who they are doing it with than to consider arbitrary rules about time".
He said he was getting the advice from Webwise, the department's professional development service for teachers in relation to technology.
Newcombe told the Ratoath parents that a decision to use iPads is a matter for the school's board of management. The official was responding to a petition sent to the minister, which was signed by 738 parents of incoming and current pupils at the 1,000-student school, calling for physical textbooks to be reinstated as an option. They also asked the minister to meet them, which McHugh has so far not done.
The parents noted that over 100 scientists published the Stavanger Declaration earlier this year urging caution in introducing digital technologies to education on the basis that, without carefully developed learning strategies, children's reading comprehension and critical thinking skills could be undermined.
This weekend the Department of Education said its advice was "in line with international evidence-based research" and "emphasises parental engagement".
"It is not to be taken to mean that there should be no limits to screen time, rather that it is important parents are provided with guidance to inform them as to how to manage technology use so that it is productive and positive," the department said.
Nicola Kearns, a parent of three students who attend Ratoath College, said the iPad-only policy was facilitating addiction to screens. "To say screen time is an 'obsolete concept' is untrue," she said.
Asked if it plans to assess the effect of iPad-only policies in schools, such as by comparing Junior Cert results before and after introduction, the department said "no one factor can specifically be attributed to the quality of teaching and learning and student performance in state examinations".
Ann Marcus-Quinn, a lecturer in technical communication at the University of Limerick, said a blended approach to teaching using both technology and books was probably best.
Ratoath College did not respond to a request for comment.
Don't forget to follow us on Twitter, like us on Facebook, or connect with us on LinkedIn!