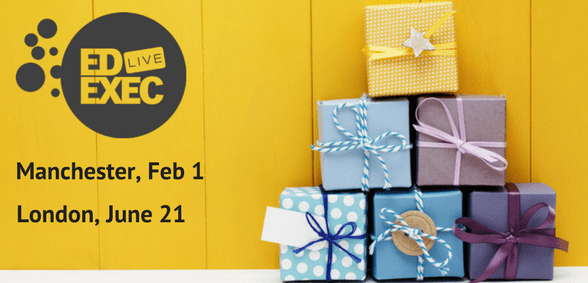 When work weighs you down, your 'to do' list is endless, even life seems burdensome and you are most in need of a break – that's no doubt when it's hardest to take one. Schools and academies are under great pressure to deliver outstanding education within a limited budget. To do so requires strategic management and innovation…
At EdExec LIVE, we aim bring together all of the components that you need to take your school in the direction you need to, to ensure operational excellence and deliver the education that you want for your students.
Seminars are expert-led and address the pressing matters impacting the education sector and school business management. Sessions cover finance, funding and income generation, marketing, premises, management and all the acronyms – CPD, HR, ICT, GDPR…Plus, we've added an academy stream.
Speakers include practicing business managers, finance and trust directors, CEOs, CFOs, independent consultants…all sector experts and all on-hand to ensure that you have access to the information that you need.
So, what can you expect to learn on the day? Feast your eyes on the following highlights – and visit our seminars page to peruse more of our fantastic speakers deliver outstanding sessions…
Overcoming financial pressures and budgetary uncertainty with Paul Leigh, chief financial officer, Focus Trust
The school budget can seem an untameable beast; effective financial management is key to ensuring that your school or academy stays in control. In this session Paul Leigh, chief financial officer at Focus Trust, looks at the abundance of information available to help you – sign-posting the best resources available to you.
Pupils at a premium – do the right thing; show that you're doing it with Neil Clephan, NLE, Red Kite Alliance
In this practical, interactive workshop Neil Clephan, recent head of an outstanding through school (four to 18) and Pupil Premium review centre, explores how SBMs and senior leadership staff can use this vital funding and demonstrate value for money. He will also demonstrate how published Pupil Premium Plans can and do make the greatest impact.
The Schools' buying strategy with The Department for Education's Schools Commercial Team
The Department for Education's Schools Commercial Team will be hosting a workshop at EdExec Live 2018 in Manchester, to hear the views of schools and help shape our products and services to better meet schools' needs.
The Schools Commercial Team leads the delivery of the Department's Schools' Buying Strategy which is intended to help schools to get the best value from their non-staff expenditure. Now is an important time in the roll-out of the Strategy, with a range of opportunities already available and more in development.
Marketing your school and crafting effective value proposition with Justin Smith, MD, Chameleon Training and Consultancy
Understanding that your school is a brand and applying the principals of marketing are more important than ever. Effective marketing boosts your school's reputation in the community and helps attract, recruit and retain new students and teachers. Developing a value proposition is key to this.
In this session Justin Smith explores how you can effectively harness the power of marketing and, importantly, how you can maximise the impact of your marketing budget. As an added bonus, he will also consider how this can help you to develop meaningful relationships and even secure business sponsorship.
A collaborative force to be reckoned with delivered by Louise Hatswell, finance director and business manager, chair of SYSBL
Louise Hatswell works across three schools as director of finance and SBM and chairs the South Yorkshire School Business Leaders (SYSBL) group. With the support of her schools' heads, she joins us to consider the burgeoning SBM groups that are bringing SBMs together, providing a platform for the exchange of knowledge, information and support, as well as a united voice. Louise considers how isolated schools – and SBMs – can be and explores the potential for collaboration, outlines her group's achievements and provides valuable advice on setting up – and managing – a SBM group.
And of course, our panel discussion Rethinking school business management chaired by Matthew Clements-Wheeler
More autonomy, increased responsibility, higher demand, greater expectations, changing support mechanisms, decreasing funding, spiralling on-costs and centralisation by growing MATs; effective school business management for the future may require us to rethink current approaches and develop models and frameworks more suited to evolving operational structures.
This panel discussion seeks to unpick the current educational landscape and explore future possibilities by rethinking school business management.
An educational bonanza, we think you'll agree! With Christmas just around the corner and our February 1 event in Manchester not long after – now's the time to secure your place!