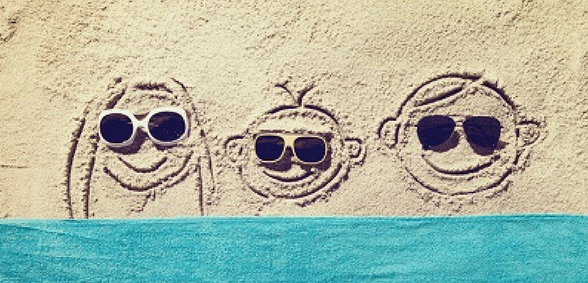 Holiday coming up? Laura Potter explains how to get guaranteed bliss!
CREDIT: This is an edited version of an article which appeared on the Healthy website. 
It's difficult not to start your holiday with residual stress nagging, having busted a gut to get your work done, your packing complete, your home in order and your itinerary nailed – but it doesn't have to be like this if you approach your holiday the right way.
Indulge in the anticipation
"Research shows that pleasure comes in three parts; anticipation, the event itself and the remembering of the event," says coaching psychologist Jessica Chivers. "Swap an hour of TV in the evenings for an hour with your Lonely Planet guide, searching Instagram and reading travel blogs to get inspired about where to go and what to eat."
As 40% of couples argue daily while on holiday, see off potential stress by discussing your expectations with those who are joining you.
Be realistic at work
In order to enjoy that delicious holiday anticipation, you need to make some adjustments at work.
"Prioritise and rework deadlines to allow yourself some space," advises Jessica. "If you usually reply as soon as someone emails you, in the days before you depart, only respond to important messages. You want to be closing things down, rather than opening things up."
Dial down the social scene
If you're tying up loose ends at work, the last thing you need is a social diary sending you into a tailspin, especially as research shows British women feel they get just 17 minutes a day to themselves. "Limit social activities – you'll be having enough pleasure on holiday," notes Jessica.
Lose the 'should'
We put pressure on holidays, striving to tick off a 'must-see', 'must-do' and 'must-eat' list, thinking we need to get our picture taken in front of every major monument to prove we squeezed every drop out of our holiday.
"Holidays are about having life-enhancing experiences, so think about what a good holiday is for you," says Jessica. "How do you want to feel? Is it about communing with nature, cultural enrichment or being spontaneous? Work out what you want, then savour it. The perfect holiday comes by approaching it with self-awareness."
Manage money
Set a realistic budget and stick to it – over one-third of Brits overspend on holidays and the prospect of returning to a pile of credit card bills can cause major stress.
"A budget makes it clear to everyone what the constraints are," Jessica explains, "and it makes you prioritise pleasures. Doing lots of things isn't restful, but one thing a day is – be that a gorgeous meal, an indulgent massage or an exciting excursion."
Really unplug
"When people tell me they look at work emails while away (34% of us check them daily) I always ask, 'What are you looking for and what will you do about it?'," says Jessica. "If you see an emergency unfolding, you won't ignore it, so there's no such thing as 'just looking'. Be clear you aren't available for those dates and tell people who they can speak to in your absence. Say you'll be returning a day later than you actually are so the first day back you can work undisturbed.
"If you have to be contactable, make a rule – assign 10 minutes each morning. You owe it to yourself, your colleagues and clients, to take a break, disconnect and come back refreshed."
Build in a cushion
Schedule your return flight so you have a day to sleep in, run errands, restock the fridge and readjust. "Research shows that, when we go on holiday, we remember the peak experience and ending – so if the end's rushed and stressful, your whole holiday will be tainted," explains Jessica. "So, if you're going first class one way, make it the return leg. Avoid 'back to reality dread' by ending your trip on a high. Indulge in the warm afterglow."
Don't forget to follow us on Twitter, like us on Facebook, or connect with us on LinkedIn!