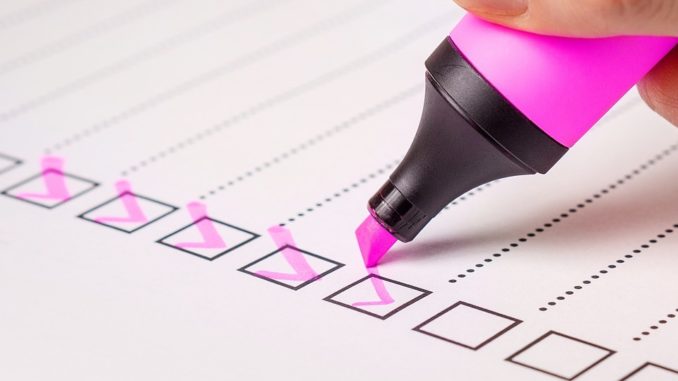 Jo Gathern, SBM and data protection officer at Glebe Primary School in Sussex, reflects on how to make the best of an endlessly busy to-do list by turning it into a 'ta-da' list, and why it's good for wellbeing
Putting our own wellbeing first doesn't often come naturally – this is certainly the case for every school business professional I have the privilege of knowing. I was asked by EdExec if I would like to write a piece on wellbeing, after tweeting about working a 12 hour shift, so I took the opportunity to reflect on my own wellbeing. How I was feeling? What was having a negative impact on my wellbeing? I decided it was mostly due to my workload. I never really switched off from work, even thinking about it in my sleep – and my dreams used to be filled with cake or Brad Pitt, or both!
I looked at how I was managing my workload and realised that I wasn't. I know all the strategies, in theory, but was 'too busy' to put them into practice. Also, being one of those people who happily volunteers first and sometimes regrets it later, I'm highly skilled at adding to more to my workload; I think this is an SBM thing, as we're great multitaskers and naturally inclined to offer help and problem solve.
So, first, I started blocking my routine tasks; this has given me more control and structure and, as I have less on my mind, I can concentrate on the task in hand much more effectively. It's also helped me to prioritise more and be less reactive to new tasks. Obviously, there are some (occasionally random) urgent interruptions, like a flooded toilet or a camera drone being flown over the school grounds, but that can't be helped.
Shut that door!
I'm trying to shut my door when I need to focus. This will never be 100% successful – some staff will never see a closed door or a 'Do not disturb' sign as a barrier – but it does help. My to-do list is a never-ending monster – so why pressure myself into trying to get it all done when it's not achievable? I will always be setting myself up for disappointment.
Recently on twitter @MrsSchoolOffice mentioned that she has a 'ta-da' list instead – what a great idea! And it works. I love the idea of focusing on the positives, and having a sense of achievement at the end of the day, rather than thinking about everything that didn't get done.
I'm really glad I started this process. It has made me realise that, ultimately, I am responsible for my own wellbeing. I've made changes at home, too, by restricting how often I look at emails and work-related threads on social media, and by doing more of the things that make me happy. There are long-term changes that need to be made at work – such as improving efficiencies and freeing up admin time so I can delegate some tasks – but two weeks into my new strategy I already feel more in control and a lot happier in my work.
Yes, there are external factors which are out of my control but, by starting with the changes I can make myself, I'm in a much better position to be able to tackle the more difficult obstacles.
Don't forget to follow us on Twitter, like us on Facebook, or connect with us on LinkedIn!